Police have arrested a fourth suspect accused of arranging and participating in street races throughout Miami-Dade County.
Kai Campbell, 23 was arrested on 19 counts of facilitating drag racing, Miami-Dade Police officials said Tuesday.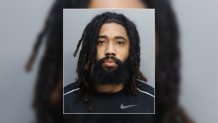 The arrest is part of an investigation that began in December to crack down on illegal drag racing.
The operation targets people organizing car meets for the purpose of engaging in reckless and dangerous driving including drag racing, burnouts, sliding, drifting, and donuts, police said.
Campbell used an electronic chat application under the name "Asspack Ent." to promote and advertise numerous takeover events in Miami-Dade County and other Florida counties, police said.
Participants would show up and block lanes of traffic while racing or drifting, and when police showed up, they would flee the scene, officials said.
Police arrested two men on similar charges last month. The investigation is ongoing.