It's Wednesday, Feb. 13, South Florida – NBC 6 has the top stories you need to know for the day.
Today's Forecast will be largely rainy, as rain chances increase through the afternoon with the potential of thunderstorms. Grab an umbrella before heading out the door!
1. Naked Man Causes Chaos in Oakland Park Walgreens
A naked man caused chaos in a South Florida Walgreens and the entire encounter was caught on camera
The video shot by a customer captured the incident at the store on N. Andrews Avenue in Oakland Park Tuesday.
For more information, click here.
Footage Shows Naked Man in Oakland Park Walgreens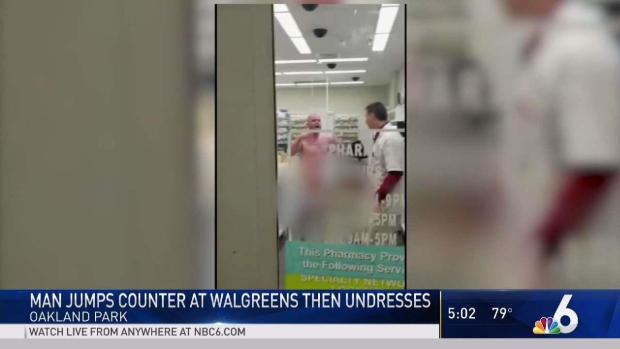 2. Monkey Stolen From Palm Beach Zoo Recovered
A little Goeldi's monkey – also known as a callimico – stolen from the Palm Beach Zoo has been recovered, according to police.
A zookeeper discovered the monkey missing during early morning rounds and then saw that the mesh on her enclosure had been cut open.
For more information, click here.
3. One Year Later: What's Changed After Parkland, What Hasn't and What Could Change Back?
In the year since 17 were killed at Marjory Stoneman Douglas High School, gun laws have changed, and police have been given powers to confiscate weapons from people not even charged with a crime.
But there is an effort to roll back those changes, and failure to complete a crucial public safety issue that hampered first responders to the school and another mass shooting.
For more information, click here.
4. Charges Filed in 2017 Noose Incident Inside Miami Fire Station
Nearly a year and a half after a black Miami firefighter found a noose hanging over a picture of his family ruined by lewd drawings, those allegedly involved in the incident were formally be charged in the case.
A total of six firefighters, including two supervisors, were fired two months after the incident. Four of them were charged Tuesday with criminal mischief.
For more information, click here.
Charges Filed in Noose Incident at Miami Fire Station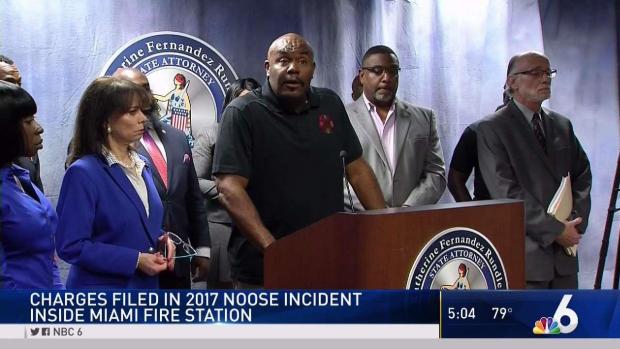 5. Student Arrested After Chaos at Homestead Sr. High School
A student was arrested as chaos broke out due to several fights Tuesday at a high school in southeast Miami-Dade.
Over 100 students were engaged in a "large-scale" fight at Homestead Senior High School, police said in an arrest report. Miami-Dade County Public Schools confirmed several fights occurred on campus that afternoon.
For more information, click here.
6. Man's Body Found Inside Car Trunk in NW Miami-Dade
Police have launched a death investigation after a man's body was found inside the trunk of a vehicle Tuesday in northwest Miami-Dade.
Officers responded to a call of a foul odor and flies around a vehicle at around 2:20 p.m. in the 9100 block of NW 22nd Avenue, according to the Miami-Dade Police Department.
For more information, click here.
Mans Body Found in Trunk in NW Miami-Dade