A man is facing a murder charge after an NBC 6 report on a cold case killing in Fort Lauderdale nearly seven years ago led to a tip, police said.
Jimmy Smith, 54, was arrested Monday in the June 2016 killing of 44-year-old Gilbert Oosthuizen.
An NBC 6 report on Oosthuizen's killing aired in December. Fort Lauderdale detectives said a witness to the crime saw the story and called in a crucial tip.
Fort Lauderdale Police's new cold case unit is reviving an unsolved murder of a man back in 2016. NBC 6's Laura Rodriguez reports
"He was right there when it happened. He knows who the suspect is personally and it just took him a little while to come forward," Fort Lauderdale Police Sgt. Steve Novak said. "But I believe airing the story and letting people know that it was still unsolved was the catalyst of that phone call to come in."
Keyana Hamilton, Oosthuizen's daughter, said Smith was friends with her father for years. She said they were also co-workers and once had a dispute on the job that led to the end of their relationship.
"After getting fired, that might of tipped him over the edge, from what my family has mentioned, and just kind of took it out on my dad since my dad was above him work wise," Hamilton said.
Hamilton said for years she had a feeling Smith was responsible for killing her father.
"He was definitely a person of interest," Novak said. "I'd say even a suspect from the very beginning, but we were lacking certain key details to move the case forward to an arrest."
Police said Smith followed Oosthuizen's every move on the day of the murder, waiting for him to leave work and following him in his grey Toyota Camry to a Walgreen's parking lot.
Smith then allegedly continued stalking him at the Veterans of Foreign Wars Post on Southwest 25th Street, before he shot him multiple times in the middle of the day.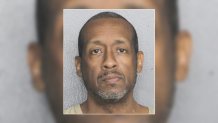 "A lot of us still feel confusion as to how it escalated to that manner, especially after they hadn't talked for so many years to hold that type of grudge," Hamilton said.
Records showed Smith was booked into jail on a first-degree murder charge, and was being held without bond. NBC 6 reached out to the public defender's office for comment, but haven't received a response.
Hamilton said her family and friends plan to attend court proceedings in the hopes of getting a bit more clarity from Smith about why he allegedly pulled the trigger.
"Honestly, I want to shoot for the maximum penalty. I don't feel someone like him should be out on the streets," she said.
Hamilton said she's grateful the witness watched the report and came forward after so many years, saying it takes a lot of courage.
"It just goes to show that even with cases where you might be lacking a key piece of evidence, you keep working it," Novak said.