The principal of a high school in central Florida was arrested Tuesday after he allegedly keyed a car in the parking lot of a Publix supermarket.
NBC affiliate WESH-TV reports Nathaniel Fancher, who is the principal of St. Cloud High School, was arrested for criminal mischief.
According to an arrest report, Fancher was getting into his vehicle January 27 when he keyed the entire length of a car nearby. The incident caused more than $3,000 worth of damage.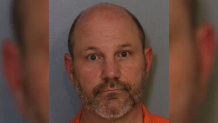 Fancher bonded out of jail and has been placed on administrative leave, according to a message sent to parents by the school district.
"As this is a law enforcement matter, we are not able to discuss the incident in detail," assistant principal Jennifer Wrona said in the message. "Please be assured that our focus will remain on educating our students and minimizing any disruption in the learning process. Thank you for your continued support of our school."