Hurricane Irma, downgraded to a Category 3 storm ahead of its expected Sunday landfall, has shifted west. Floridians are preparing and bracing for the impact across South Florida, on both west and east coasts.
As of Saturday afternoon, the storm was considered "extrememly dangerous," according to the National Hurricane Center. 
Florida Gov. Rick Scott declared a state of emergency. Officials imposed mandatory evacuation orders, affecting 5.6 million Florida citizens, including parts of the Miami metro area and the Florida Keys.
Scott said Irma is "powerful and deadly" and will likely be a storm as bad as, if not worse than, Hurricane Andrew was 25 years ago.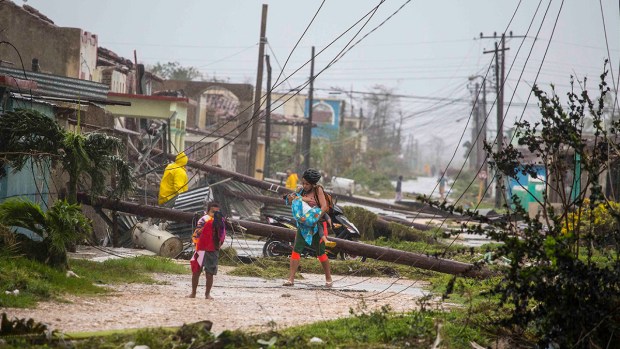 In Photos: Irma Lashes Through Caribbean as Florida Prepares
With the storm's shift to the west, Irma is taking aim at the Tampa region. Disney World, Universal Studios, SeaWorld Orlando and Busch Gardens Tampa Bay were shuttering their parks Saturday evening and planned to remain closed Sunday and Monday. 
As they braced for impact, many Floridians took to social media to share how they were getting prepared.
Don't take chances with your safety- if you are in an evacuation zone, LEAVE NOW. For evacuation routes visit https://t.co/PdBTDyGQxH

— Rick Scott (@FLGovScott) September 9, 2017
Waiting for Irma pic.twitter.com/kmizJA7Jxa

— Jorge R Rodriguez B (@Jorgerod10) September 9, 2017
Irma's lurking…���� pic.twitter.com/gz81DlmA5F

— Anthony Rhoades (@AnthonyJRhoades) September 9, 2017
Most Florida thing ever? @Publix#irmapic.twitter.com/P3E7gmbKA4

— Jason Compton (@jasonr_c) September 9, 2017
With South Dade's FINEST As They Get Ready To Protect U & Me���������������� #Irma@JPerezMDPDpic.twitter.com/40CCtLfWZ3

— Laz (@CutlerRidgeLAZ) September 9, 2017
Cheetahs and birds, like vultures, being put in temporary and safe enclosures at @zoomiami to ride out #Irma -full report soon on @nbc6pic.twitter.com/VLFZIOV6qf

— Amanda Plasencia (@AmandaNBC6) September 9, 2017
Even animals finding comfort at #Irma shelters, thanks to dedicated @mdcps employees, @FLGuard, others. @HOMPanthers still accepting pets. pic.twitter.com/yb0jEyYDv3

— Alberto M. Carvalho (@MiamiSup) September 9, 2017
130 mph winds coming �� #Irma 1 neighbor put tape on 1 window another partially boarded 2 windows another covered 1 window with tarp #Crazy �� pic.twitter.com/xdpRhtbNXj

— Rick (@RickFla) September 9, 2017
Boarded up 3 houses in 3 days, Irma prep is all done and I'm ready to rock. Time for football and good beer pic.twitter.com/sePltvO0MI

— GOSEface Killah (@RodMahoney) September 9, 2017
Starting to get windier over here on the Intracoastal Waterway side but not too bad yet. #StaySafeFlorida#Irmapic.twitter.com/v0J4KCGY6O

— Shared Motivation (@SharedMotivati1) September 9, 2017
Last run for water to give to our @mightyocala family! #BossOfTheYear#TuggleNation#IrmaPreppic.twitter.com/pC4e4UFved

— Justin Nelson (@JustinNelsonATT) September 8, 2017
1) #HurricaneIrma prep is done at our main shelter. The animals are confused, but safe with enough access to food and water for days. #Irmapic.twitter.com/yOxham1V2a

— HumaneSociety_Naples (@HSNaples) September 9, 2017
Reasonably calm this Saturday evening. That will change tomorrow into Monday when Irma moves through. If we have power I'll tweet afterwards pic.twitter.com/zILqGb4Bhw

— Will Turc (@WillTurc) September 9, 2017
irma got me worried �� pic.twitter.com/ZDjwzeJDgE

— Leo (@trapasio25) September 9, 2017
If you need a safer place to put your car, the city's downtown parking garage is open and will be free. #irma#gainesville.

— Adrian Hayes-Santos (@aHaySan) September 9, 2017
The skies are starting to get stormy. Irma is on her way… be safe everyone and stay indoors♡ #IrmaHurricane#Irma#GlobalGoodEmipic.twitter.com/1Ma1srdBVM

— Emi (@EmiForLove) September 9, 2017
WATCH: Video shows strong wind and waves in Miami, Florida ahead of Hurricane Irma's landfall pic.twitter.com/OHVRgBb2aD

— Boo (@P4tR10tBoo) September 9, 2017
Cranes spinning #downtownmiami#hurricaneIrma#miami#cnn#fox#univision#wsvn#fox#irma#IrmaMiamipic.twitter.com/OgNXELCbWg

— ratzenburguer (@pokejavin) September 9, 2017
Irma making moves already pic.twitter.com/UTRt9i6RFk

— Chumster (@Kelera16) September 9, 2017
#Irma's strong waves at Key West:
Amazing… #HurricaneIrma#KeyWest#Florida#Miami#hurricaneirma2017#BeSafepic.twitter.com/8IxFznv3SD

— Right Voice Now (@rightvoicenow) September 9, 2017
Hurricane #Irma update with @NASKeyWest's CO Capt. Bobby Baker from #KeyWest.
 NFAAS – https://t.co/9cutP4HFTFpic.twitter.com/4Z132sap5Z

— U.S. Navy (@USNavy) September 9, 2017
Hurricane #Irma's eye is seen in this new infrared image. See this image & learn about our @NASAEarth missions: https://t.co/5YOLYfLkp9pic.twitter.com/41UUPzktMW

— NASA (@NASA) September 9, 2017
***THIS IS AS REAL AS IT GETS***

***NOWHERE IN THE FLORIDA KEYS WILL BE SAFE***

***YOU STILL HAVE TIME TO EVACUATE***

Please RT. #Irmapic.twitter.com/VWLMEDWoUs

— NWS Key West (@NWSKeyWest) September 8, 2017
Published 28 minutes ago