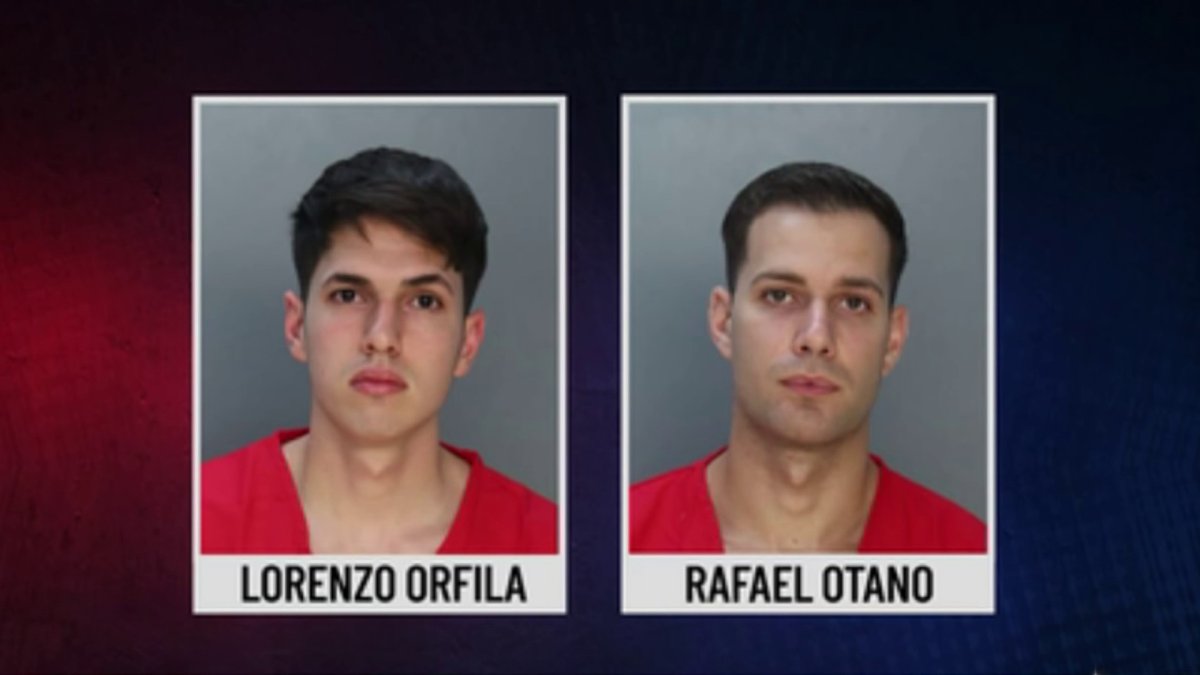 Two former Hialeah Police officers accused of kidnapping a homeless man, driving him to an isolated location, and beating him while he was handcuffed appeared in court Monday hoping they can post bail.
The officers, 27-year-old Rafael Otano and 22-year-old Lorenzo Orfila, turned themselves in to authorities and were booked into the Miami-Dade jail in late January to face charges in the case.
On Monday, their defense attorneys presented their case as to why the men should be allowed to bail out of jail on non-bondable charges.
The officers encountered Jose Ortega-Gutierrez, who is well known to police as a homeless man who frequents the area, Miami-Dade State Attorney Katherine Fernandez Rundle said during a Jan. 26 news conference.
Ortega-Gutierrez was placed in handcuffs and put in the back of a Hialeah Police car, despite surveillance footage from the scene not showing a reason for him to be taken into custody, Fernandez Rundle said.
Instead of being taken to jail as is the normal procedure, the officers took Ortega-Gutierrez to an isolated location where he was beaten and thrown to the ground while still handcuffed, Fernandez Rundle said.
Ortega-Gutierrez said he lost consciousness and woke up unhandcuffed, alone, and bleeding from his head. He started walking and happened to come across an off-duty Hialeah Police officer who was walking his dog and called 911 for him.
He told police what had happened to him and was taken to a hospital for treatment.
One of the officers who responded to the scene was contacted by Orfila who inquired about Ortega-Gutierrez's condition and asked the officer to classify the 911 call as "no report," Fernandez Rundle said.
Orfila also told the officer that they had dropped Ortega-Gutierrez off and "roughed him up," Fernandez Rundle said.
Investigators discovered that GPS on their police vehicles showed Otano and Orfila were outside their assigned sector that day, Fernandez Rundle said. Neither had his body worn camera turned on during the encounter, Fernandez Rundle added.
Days after the incident, Ortega-Gutierrez said he was approached by Saleh, who he said identified himself as a private investigator and offered him $1,200 in cash to sign an affidavit that he had been arrested for drinking and hadn't been beaten by the officers, Fernandez Rundle said.
Ortega-Gutierrez said he doesn't know how to read and didn't know what was in the affidavit but signed it and took the money because he's homeless, Fernandez Rundle said.
A former prosecutor explains the kidnapping charges against Hialeah officers accused of beating a homeless man. NBC 6's Ryan Nelson reports
Fernandez Rundle said the armed kidnapping charge carries a sentence of up to life in prison if convicted.
Otano's attorney, Michael Pizzi, said his client didn't do what he's accused of and called his arrest a "horrible miscarriage of justice."
"Charging a police officer with armed kidnapping when they were armed because they were in uniform on patrol in their own sector, risking their life to protect the public, that cannot possibly be armed kidnapping," Pizzi said.
Orfila was a three-year veteran of the department, and Otano has been there for six years. Fuente said both officers had been fired by the mayor.
"It's a sad and disappointing day when any officer betrays the badge, and it's extremely disappointing to me it being an officer that wore the Hialeah badge," Hialeah Police Chief George Fuente said. "We will not accept anything less than an unblemished integrity from those that entrust us to serve and protect."