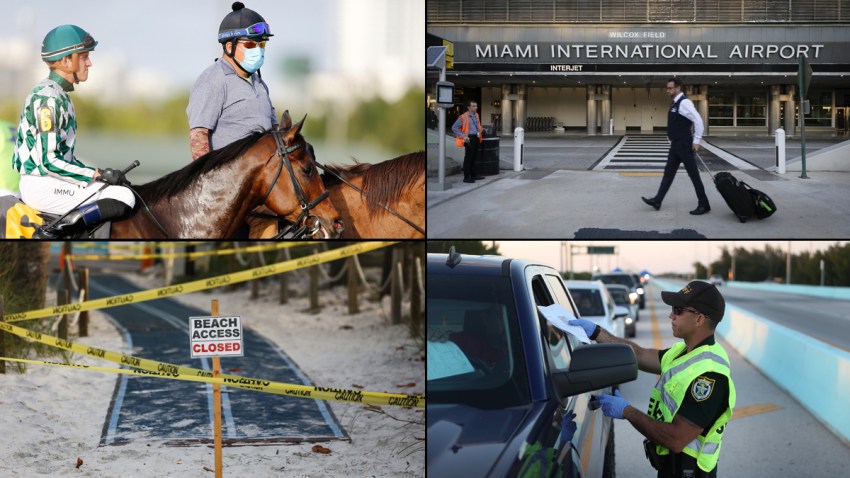 What to Know
More than 500 new coronavirus cases were confirmed in Florida Monday, bringing the state's total to nearly 5,500
About half of the state's cases are in South Florida, with Miami-Dade and Broward the top two counties
Gov. DeSantis said safer at home policies in Miami-Dade, Broward, Palm Beach and Monroe could be in place until the middle of May
More than 500 new coronavirus cases were confirmed in Florida Monday, bringing the state's total to nearly 5,500 as the death toll rose by 3 and Gov. Ron DeSantis said he expected a near-lockdown in South Florida to last until mid-May.
Of the 5,473 confirmed cases, 5,276 were Florida residents and 197 were non-residents, according to figures released by the Florida Department of Health.
The numbers in South Florida continued to spike and accounted for about half of the state's total, with 1,608 in Miami-Dade and 1,129 in Broward. Another 407 cases were reported in Palm Beach while Monroe had 21 cases.
The state's COVID-19 related deaths rose to 63. Of those, 11 were in Broward and 3 were in Miami-Dade.
At a news conference Monday, Florida Gov. Ron DeSantis said he was issuing an executive order to make a common set of rules for safer at home policies for the four counties in southeast Florida that have been hit hard by coronavirus. He said the measures would likely be in place until the middle of May.
"The safer at home is the right move for southeast Florida, this is the time to do the right thing and listen to all your local officials," DeSantis said. "We do this until the middle of May and then we'll see where we're at."
DeSantis also said doesn't want the people on a cruise ship where four people died and others are sick to be treated in Florida, saying the state doesn't have the capacity to treat outsiders as the coronavirus outbreak spreads.
DeSantis said it would be "a mistake" to bring the passengers from Holland America's Zandaam into South Florida for treatment because it already has a high number of new coronavirus infections and that number is growing.
In another executive order, DeSantis said he'll allow recently retired law enforcement and health care workers to return to work to help in the coronavirus response.
"We're going guns blazing, doing all that we can to stop the spread of COVID-19," DeSantis said.
DeSantis said the state has also deployed the first rapid COVID-19 test, which takes about 45 miniutes to give a result. He said 1,750 were distributed to Memorial Healthcare System in Broward, and about 500 in northern Florida. The state was also working to acquire a test that gives results in five minutes.
Meanwhile, teachers and students across Florida, which has some of the largest school districts in the country, were set to begin virtual schooling on Monday after spring break ended in many areas of the state.