A Homestead physical education teacher and former University of Miami athlete is accused of having sex with a 14-year-old student.
Joseph Edward Tolliver, 37, was arrested early Wednesday on a charge of lewd and lascivious battery on a child 12 to 16 years old, an arrest report said.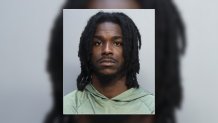 Records show Campbell is a physical education teacher at Campbell Drive K-8 Center in Homestead.
According to the report, the teen girl said she and Tolliver, her P.E. coach, developed a personal relationship.
She said Tolliver visited her on several occasions and would enter through her bedroom window to avoid being seen by her mother, the report said.
On Feb. 4, the teen said she met Tolliver in the parking lot of her apartment complex where they had sex in his car, the report said.
Tolliver was arrested and booked into jail, where he was being held on $7,500 bond, records showed. Attorney information wasn't available.
In a statement Wednesday, Miami-Dade County Public Schools officials said they've initiated employment termination proceedings, and will ensure Tolliver won't be able to seek future employment with the district.
"We commend the Miami-Dade Police Department for their investigative work on this case, which occurred away from the school setting, and for bringing this individual to justice," the statement read. "Miami-Dade County Public Schools is profoundly disturbed by the abhorrent allegations made against this individual. This District goes to great lengths to promote a safe and secure learning environment and any actions that run contrary to that will not be tolerated."
According to MiamiHurricanes.com, Tolliver was a member of the school's football and track teams in the mid 2000s.
"As a father, I am deeply disturbed any time an educator betrays the public's trust. Schools are considered to be a safe haven for our children, and us parents entrust the educators with the safety and security of our children. I am very proud of the Sex Crimes Unit diligent work on this case," Miami-Dade Police Director Alfredo Ramirez said in a statement.