Here are some of the top stories for last week from the NBC 6 Weekend Digest:
Third Man Charged in $5 Million Gold Heist From Miami in 2015
Federal prosecutors have formally charged a fugitive in the 2015 robbery of a tractor-trailer carrying almost $5 million in gold bars.
The FBI is officering up to $10,000 for information leading to his arrest and conviction.
For more information, click here.
FBI Offers $10K Reward for Gold Heist Suspect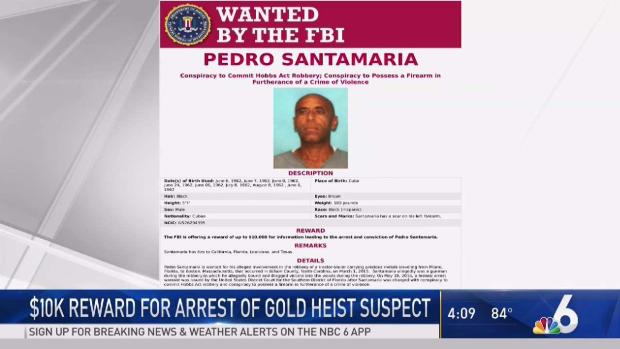 NC Man Accused of Child Kidnapping Arrested in South Florida
Zachary Journey, the 25-year-old man wanted in North Carolina for allegedly kidnapping a child, has been arrested in Marathon, according to the Monroe County Sheriff's Office.
The 15-year-old girl, who was not physically injured, was taken under the custody of the Florida Department of Children and Families. A sheriff's deputy made the arrest after conducting a traffic stop.
For more information, click here.
Florida Official Resigns After Being Fined for Face Licking
A city commissioner in Florida has resigned after the state ethics commission fined her over accusations she sexually harassed a former city official by licking his face and groping him.
Madeira Beach City Commissioner Nancy Oakley handed in her resignation Tuesday.
The Florida Commission on Ethics last month fined Oakley $5,000 and called on the governor to issue a public reprimand.
For more information, click here.
New Law Proposed After String of Plastic Surgery Deaths
A proposed bill in the Florida Senate would allow the Department of Health to have more regulation over the plastic surgery industry and take action against doctors and clinics in the case of serious injury or death.
The NBC 6 Investigators have uncovered the deaths of at least ten women since 2010 who have died after undergoing a Brazilian Butt Lift procedure – at different clinics, with different doctors.
For more information, click here.
New Law Proposed After String of Plastic Surgery Deaths