The Grady family is proof that life, like any sport you choose, is a game of inches.
"I am definitely blessed, as I would say, I mean just where I was in the classroom, where everything was pertaining to me, I shouldn't really be here, sitting and talking," Samantha Grady told NBC 6.
Samantha Grady is a senior at Marjory Stoneman Douglas High School. She was in her Holocaust history class when last year's shooting started.
"But I was just sitting there processing, because I never heard a gunshot before in my life, at least not a real one and movies don't really depict how scary and horrifying that sound truly is," Samantha explained.
MSD Teachers Reflect 1 Year After Shooting
The terror was approaching. When the bullets started crashing into her classroom, Samantha and her classmates scrambled for cover, and she was hit twice.
"I got shot right here which is the ricochet, and back here, which is the graze, and the graze required 14 staples and one here, so 15 in total," Samantha explained, pointing to her chest and the right side of her torso.
Nick Dworet died a few feet away, and Samantha's best friend, Helena Ramsey, died right next to her.
"I was completely in denial, like one point I just looked, like oh, you're playing a joke on me, that's good, playing dead, that's a great thing, you play dead and afterwards we'll just get out and laugh about this, like I was just completely in denial," Samantha said.
The truth was and always will be overwhelming. Her closest confidante is gone, and Samantha narrowly escaped death.
"What bothers me to this day, what if, what if, we're talking inches, she was only about four or five inches away from her best friend who was killed," said Jim Grady, Samantha's dad.
MSD Students' Documentary Gives Look Into Year After Shooting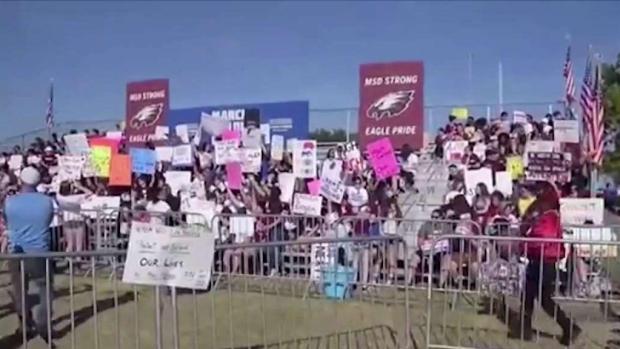 "And when I think about her, and when I think about her mother sometimes I break down, so if I can feel like this I can just imagine how her mother feels right now," added Sally Grady, Samantha's mom.
"Makes me think, how fortunate I am to be here, but at the same time how horrible of an act this really, truly was, and how kind of angry I am that they're not here anymore," Samantha said.
Samantha still carries bullet fragments in her chest, and survivor's guilt in her heart.
"I do feel the question of why am I still here, but because I know that I have some kind of purpose, that kind of keeps me going," Samantha said.
That purpose is to help people. She wants to study medicine in college, to be a healer, even as Samantha's own emotional healing will always be a work in progress.
"It was just very surreal and it's hard to process sometimes," Samantha said. "Even after a year."