After 8 months of recovery, a rescued manatee is now ready to be released into the wild.
A manatee that suffered a severe injury after being struck by a boat at Key Beach Colony was rescued by the Dolphin Research Center from the Florida Fish and Wildlife Commission last August. The manatee lost about 95 percent of his paddle, leaving only a portion remaining.
The injured marine mammal was taken to Miami Seaquarium to recuperate, where he was given Star Wars-inspired name: Key 3PO.
"So we have a Star Wars theme going on at the Seaquarium and since he came from the Keys, we wanted to be different and named him Key 3PO," says Jessica Schiffauer, Miami Seaquarium Animal Care Supervisor.
After 8 months at @MiamiSeaquarium manatee Key 3 PO is going back home to the WILD 🌊 after a successful recovery- more live @nbc6pic.twitter.com/IrkrxNRtzA

— Melissa Adan (@MelissaNBC6) April 24, 2017
Miami Seaquarium has a rehab facility where they provide medical care and resources to rescued manatees.
"Any animal that we get here, if it's months if it's years, our goal is to release them back out so they can help the population,"
Rescuing Baby Wildlife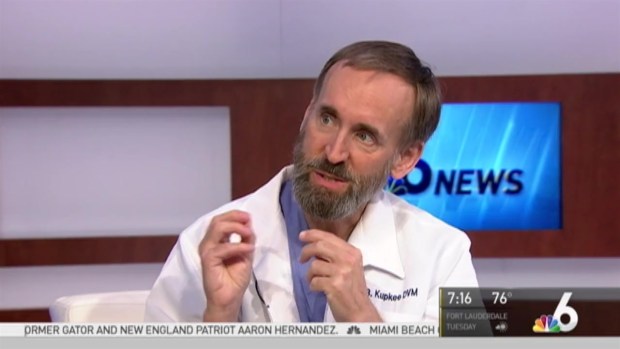 Key 3PO will be returned to Key Colony Beach, where it will be released back into the ocean.
The public is advised to contact the FWC Wildlife Alert Hotline at 1-888-404-FWCC to report a distressed or injured manatee. 
Published 1 minute ago