Police have arrested a fourth suspect accused of arranging and participating in street races throughout Miami-Dade County.
Kai Campbell, 23 was arrested on 19 counts of facilitating drag racing, Miami-Dade Police officials said Tuesday.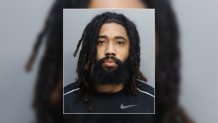 The arrest is part of an investigation that began in December to crack down on illegal drag racing.
The operation targets people organizing car meets for the purpose of engaging in reckless and dangerous driving including drag racing, burnouts, sliding, drifting, and donuts, police said.
Campbell used an electronic chat application under the name "Asspack Ent." to promote and advertise numerous takeover events in Miami-Dade County and other Florida counties, police said.
Participants would show up and block lanes of traffic while racing or drifting, and when police showed up, they would flee the scene, officials said.
"Typically the type of thing you would see in a movie. Maybe the most notable movie 'The Fast and the Furious,'" Miami-Dade Police Det. Chris Thomas said. "In the movies it's great to watch, on our streets, on our highways, it's illegal and it's dangerous."
Police arrested two men on similar charges last month. Another man was arrested last May. The investigation is ongoing.
Cellphone video shows the aftermath of a crash that killed a 42-year-old mother of four Taiice Davis back in September of 2021. Investigators said she was driving her boyfriend to work in Miami Gardens when a vehicle involved in one of these drifting events crashed into her.
"We are still in shock. Every day I wake up I hope it was just a bad dream," said Davis' aunt, Shazz Brown Mendez.
Investigators said an elderly man in a separate vehicle was also killed in that crash. Four months later, a third person died in North Miami. He was a passenger in one of the cars taking part in the meet-up.
Miami-Dade Police's Homeland Security Bureau is taking illegal street racing seriously and have arrested five organizers so far. Madison Hildendorf, the head of the group Savagelife, was arrested in May and had to pay $16,000 in fines.
MDPD also arrested Kevin Tresilus of Miami Underground and Eric Andrew Gotay of the Ruthless Car Crew, two of the biggest organizers with thousands of followers online.
Investigators said these organizers use social media and code words to arrange the events, but MDPD wants drifters to know that they're watching.
"Our detectives are working hard they are surfing the internet, they are pounding the pavement, looking for these events so that we can put a stop to it," Thomas said.
Some of these drifters have said if they had a space to do these stunts, they would stay off the streets. MDPD is now working to help facilitate a safe location.