A Miami-Dade Police detective has died days after he was shot while responding to an armed robbery.
Cesar "Echy" Echaverry, 29, was a five-year veteran of the Miami-Dade Police Department. Director Alfredo Ramirez announced his passing Wednesday night.
"Officer Echaverry died in the line of duty while serving & protecting our community," Ramirez said in a series of tweets. "Our law enforcement family will continue to stand beside & support the Echaverry family through this difficult time. We'll never forget Officer Echaverry's bravery & sacrifice. Godspeed, brother."
Echaverry was critically wounded in the Monday night shooting that began with an armed robbery in Broward and ended with a pursuit and gunfire that left suspect Jeremy Horton dead, Miami-Dade Police officials said.
Echaverry was a member of Miami-Dade Police's Robbery Intervention Detail, a squad that works in areas that are prone to crime and frequently encounters dangerous suspects.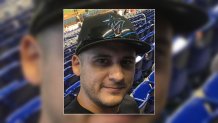 "I am heartbroken to learn of Detective Cesar Echaverry's death," Miami-Dade County Mayor Daniella Levine Cava said in a statement in part. "He laid down his life to stop a violent criminal, and we will forever be grateful, for his selfless service and sacrifice to our community."
Other South Florida police departments offered their condolences to Ecaverry's family.
On Monday, authorities said a white sedan that had been involved in an earlier armed robbery at a gas station in Dania Beach and was spotted by RID detectives in Miami-Dade.
The driver of the sedan, Horton, tried to flee, hitting detectives' vehicles and a civilian vehicle while trying to escape, Miami-Dade Police officials said.
New video obtained by NBC 6 showed officers surrounding the sedan after it had crashed into a pole in the area of Northwest 62nd Street and 17th Avenue. The video shows Horton getting out of the car and trying to flee on foot as officers yell at him to get on the ground.
An officer is seen chasing Horton before a barrage of gunfire can be heard. A flood of officers then swarm the corner to retrieve Echaverry before rushing him to the hospital, the video shows.
Another video shows Horton bleeding on the ground as officers are seen trying to revive him.
Horton was killed at the scene. Echaverry was taken to Jackson Memorial Hospital's Ryder Trauma Center in critical condition.
"I know him because the robbery detectives work out at headquarters and I know his smile, I know his heart," Ramirez said. "I know as a father what it feels like to see a young man like that injured in that fashion in such a violent way."
A second suspect in the armed robbery, Jamie Robles, was shot and killed by officers during a search warrant Tuesday afternoon at a hotel in Miami Springs.