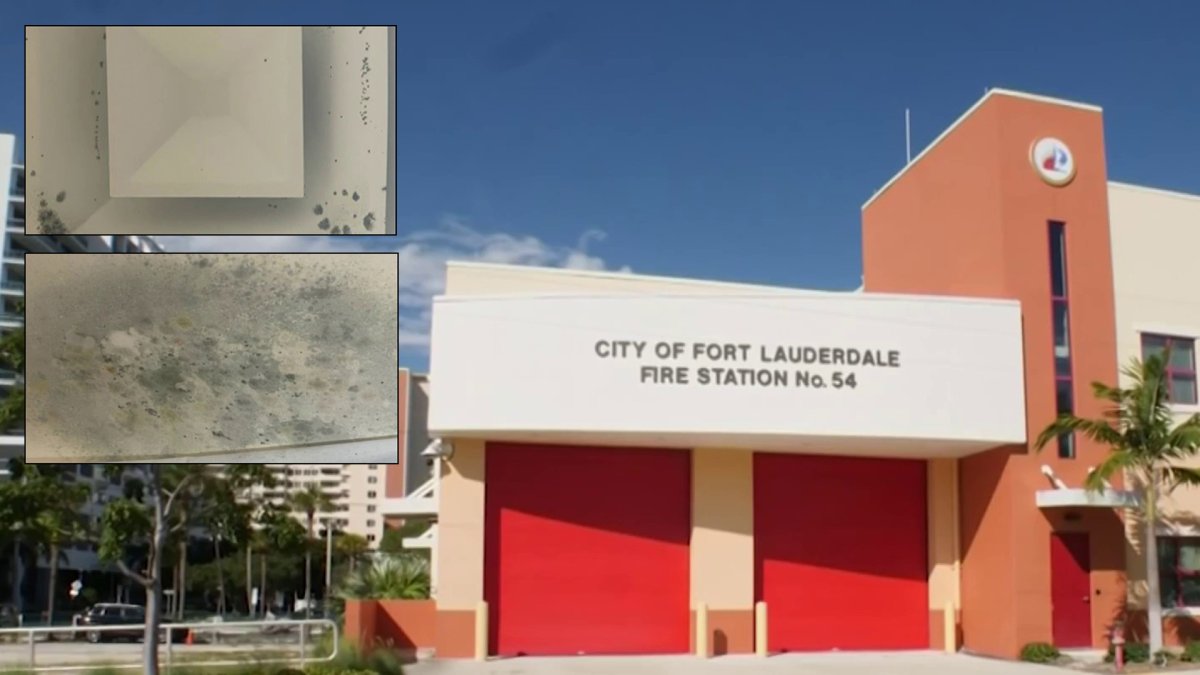 Photos obtained by NBC 6 show mold on air conditioner vents, ceilings and walls. This is what first responders said was going on inside Fort Lauderdale Fire Station 54, just north of Oakland Park Boulevard.
"It created a very difficult situation for us," said Jason Morss.
Morss, a former captain with the Fort Lauderdale Fire Department, says he worked inside the building for a year and worries about the potential impact on his health and others.
"There's a concern for me personally about being exposed to mold for an extended period of time," Morss said.
At a cost of just over $5 million, the fire station was completed in 2018. Firefighters moved in February 2019 but shortly after, Morss says they noticed issues with the air conditioning system.
"So something wasn't right with that system, and it was making it quite uncomfortable to the point where people were purchasing or trying to procure their own portable air conditioning units," Morss said. "For a brand new station, that's kind of unacceptable."
Morss says city inspectors came on a regular basis but the issues with the mold kept getting worse and just two years after it opened, the multi-million dollar building was shut down.
"There was an unacceptable level of mold occurring," said Fort Lauderdale's Public Works Director Alan Dodd, who was not leading the department at the time.
"This is South Florida and a lot of buildings have mold problems and you manage it and it's safe for employees. But when we realized that we couldn't manage it and we couldn't keep them safe in there, they (first responders) were moved out before there were any problems," he said, adding "in this case, something was not designed correctly or installed correctly. I think it's more on the design side, which led to these problems."
NBC 6 was told the firefighters and paramedics have been working out of a trailer for about a year and a half now. The city says the lease cost about $11,200 a year but it could significantly increase this year.
"Everybody is disappointed," Dodd said. "Everybody is committed that we're going to do it right and that we are going to take care of our firefighters and most importantly, we're going to take care of the communities that are depending on us for our services."
Dodd recently came to city leaders to lay out what's next.
"We are anticipating by May 2023 that we will be able to bring all of the fire rescue people back into this building," Dodd said.
Fort Lauderdale Mayor Dean Trantalis shared his frustration about the situation.
"The substantial completion was September 2018 and now you're looking at maybe getting back into it five years later. You know, that's horrific," Trantalis said. "This is ridiculous."
The city's plan includes redesigning, putting in a new air conditioning system and scrubbing the building. The price tag for the project: $902,577.
The city told NBC 6 its attorneys are looking into what happened to see if there are any legal avenues for the city to be reimbursed for the cost of putting a new AC unit in but no decision has been made so far.
NBC 6 reached out to the construction company that worked on the initial project, Burke Construction Group Inc.
In a statement, the company's CEO Tony Burke, said in part, that "Burke's role was to construct a fire station as per the drawings and specifications provided by the City of Ft. Lauderdale, and its architects and engineers … Burke did not design any part of the building, including the HVAC system. Burke completed the project in September 2018 and passed all inspections conducted by the City of Ft. Lauderdale."
Burke went on to say "the manufacturer of the HVAC equipment performed an on-site inspection and determined that all work was installed properly. The conclusion was this was a design issue, not an equipment or installation issue. Neither during the duration of the warranty period, nor thereafter, has the City of Ft. Lauderdale notified any Burke representative of issues with Burke's work," adding, "Burke upholds a high level of quality construction on all its projects, which have included numerous fire stations and commercial buildings. We always stand behind our work and enjoy a long standing favorable relationship with the community."