A notary public has been charged in connection with the kidnapping and beating of a homeless man that landed two Hialeah Police officers and a civilian behind bars.
Juan Prietocofino, 51, was arrested last month on a charge of false or fraudulent acknowledgement by a notary public, according to a recently released arrest report.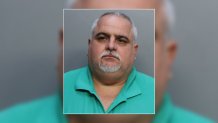 The arrest is connected to the arrest last month of Hialeah Police officers Rafael Otano and Lorenzo Orfila, and civilian Ali Amin Saleh.
The officers were charged with armed kidnapping and battery, and Orfila is also charged with official misconduct, in connection with the December arrest of Jose Ortega-Gutierrez.
Ortega-Gutierrez, who is homeless, was placed in handcuffs and put in the back of a Hialeah Police car at a shopping plaza on W. 60th Street, despite surveillance footage from the scene not showing a reason for him to be taken into custody, officials said.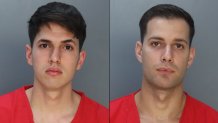 Authorities said the officers took Ortega-Gutierrez to an isolated location where he was beaten and thrown to the ground while still handcuffed.
Ortega-Gutierrez said he lost consciousness and woke up unhandcuffed, alone, and bleeding from his head. He started walking and happened to come across an off-duty Hialeah Police officer who was walking his dog and called 911 for him.
He told police what had happened to him and was taken to a hospital for treatment.
Days after the incident, Ortega-Gutierrez said he was approached by Saleh, who he said identified himself as a private investigator and offered him $1,200 in cash to sign an affidavit that he had been arrested for drinking and hadn't been beaten by the officers, authorities said.
NBC 6's Julia Bagg has more on the charges that landed both officers in jail.
Ortega-Gutierrez said he doesn't know how to read and didn't know what was in the affidavit but signed it and took the money because he's homeless, officials said.
According to an arrest report, Prietocofino has been a notary public for about two years and works next to Saleh.
Prietocofino said he was approached by Saleh to notarize the affidavit, which he did without the presence or permission of Ortega-Gutierrez, the report said.
Orfila and Otano have been fired by the department and are being held without bond while they await trial.
Otano's attorney, Michael Pizzi, said his client didn't do what he's accused of and called his arrest a "horrible miscarriage of justice."