A former student who accused her South Florida high school teacher of having sex with her in his classroom took the stand again at his Miami-Dade trial Thursday.
Jason Meyers, 47, is facing three counts of sexual activity with a minor by a person in custodial authority following his February 2016 arrest.
Meyers was teaching English and creative writing at Miami Palmetto Senior High School when the student who was 17 at the time said Meyers had sex with her inside his classroom.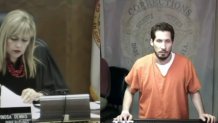 Meyers has repeatedly denied any wrongdoing as the case has been stalled for years by Meyers' change in defense attorneys and the COVID-19 pandemic.
The former student testified Wednesday on the first day of the trial, becoming emotional as she spoke about the alleged physical contact with Meyers.
She was back on the stand Thursday, where prosecutors asked her if she was still in love with Meyers.
"Over the course of time I really questioned how much of anything he said was authentic to get to know me, to grow a friendship with me. And how much of that was because he had a plan," she said.
Jurors also heard from her former best friend, Toni McLaughlin, who reported the alleged relationship at the time.
McLaughlin said she was so uncomfortable with what her friend told her regarding sex with Meyers that she told her mother, who then told school administrators about the alleged sexual misconduct. McLaughlin herself later told police.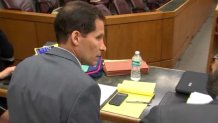 "I'm not taking what I'm saying lightly, I would never lie about something like this, this is a big deal. And it has been seven years," McLaughlin testified. "This is like, this happened and this is not something I would ever lie about."
The lead detective in the case took the stand after McLaughlin and there were questions by the defense over evidence, including surveillance video and blacklights used by crime scene investigators.
The detective said from the time the alleged sex acts happened to when they were reported, about three months, the video was no longer in the system.
As for the blacklight, the detective said crime scene investigators did not find bodily fluid on the teacher's desk.
The last witness of the day was another Palmetto High student who claims Meyers kissed her twice. She said it was before his alleged sexual relationship with the other student.
That student reported her allegations to police after Meyers' arrest. She did not know about the supposed relationship with the other student until the arrest, she said.
The NBC 6 Investigators have been following Meyers' case for years and found a total of eight former students had accused him of misconduct, from inappropriate assignments to sexual relationships.
Meyers has denied those allegations and has only been charged in one case.
NBC 6 also found that the school district had received complaints about Meyers years before his arrest. After NBC 6's coverage, the district changed how these cases are investigated and reported to the state.