Surveillance video shows a man fire a single gunshot in Miami Beach before he fatally shot another man over the weekend, police said.
The shooting happened Saturday night near Collins Avenue and 14th Street. Detectives say the subject had a confrontation with the victim before he fired his gun multiple times.
The surveillance video, released Tuesday by the Miami Beach Police Department, shows a white male crossing the street at 11th Street and Ocean Drive and heading towards the seawall. Another camera captures the subject near the seawall at 13th Street, firing a single shot before walking away. No injuries were reported or 911 calls were made in that shooting.
The subject is then tracked towards 14th Street and Collins, where he fatally shot the victim. He is then seen at the One Hotel near 23rd Street and Collins, where he was denied entry.
Man Shot and Killed on Miami Beach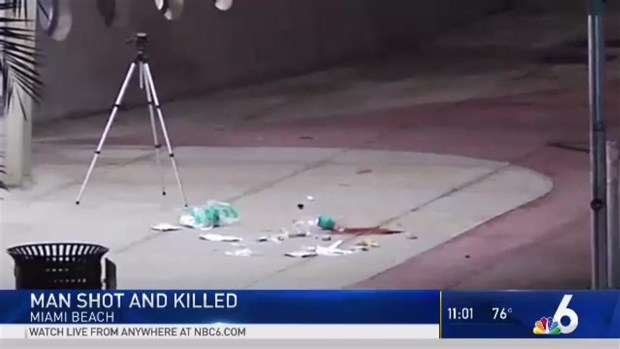 He is described as a white male with uncombed hair and is unshaven, police said. He was last seen wearing a leather jacket, shorts and sandals.
Witnesses described chaos at the time of the shooting.
"It sounded like it was right behind me," said Michael Robertson, who works on Miami Beach. "I could hear the shells hit the ground, I swear."
Man Shot and Killed in Miami Beach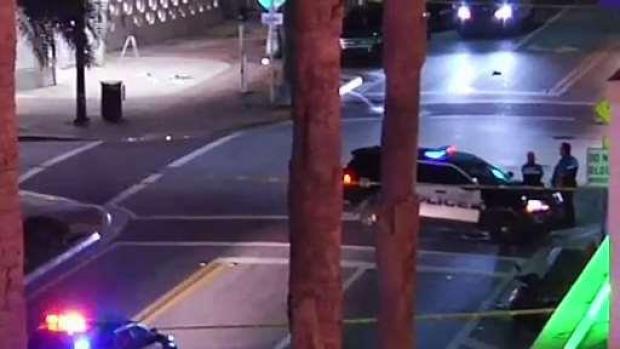 The victim, a 33-year-old man, died at the hospital.
Anyone with information about Saturday night's shooting is urged to call Miami-Dade Crime Stoppers at 305-471-TIPS. The right tips can earn the caller an $8,000 reward.