A teacher at a Homestead school has been arrested after police said he admitted to having sex with a female student who told investigators that the teacher was her "boyfriend."
Davis Hodge, 30, was arrested Wednesday on four counts of engaging in sexual acts with a child, an arrest report said.
According to the arrest report, the child's parents went to the West Homestead K-8 Center on January 6 and said a teacher at the school was having sex with their daughter.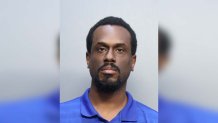 The child, whose name and age were not released, said she began communicating with Hodge, her former teacher, in October 2022 through text messages and Instagram.
The girl said the conversations went from being about school to sexual topics, before Hodge and the student began exchanging nude photos, the report said.
Hodge asked her to start meeting him at his classroom on Friday afternoons after school, and told her to tell her parents she was staying for tutoring, the report said.
Hodge was the chess club sponsor, and after the chess club meeting was over and the other students left, Hodge and the victim would engage in sex acts, the report said.
Police found Hodge at the school and took him into custody. He later admitted to committing the acts, according to the report.
Hodge was booked into jail, where he remained held without bond Thursday, records showed. Attorney information wasn't available.
In a statement Thursday, Miami-Dade County Public Schools officials said that as soon as the claims surfaced, Hodge was immediately removed from the school setting.
"Miami-Dade County Public Schools is deeply troubled by the disturbing allegations made against this individual," the statement read. "After a thorough investigation by the Miami-Dade Schools Police Department, this individual was subsequently arrested. Conduct such as the one he is accused of will not be tolerated. As such, the District has initiated employment termination proceedings, and will ensure the individual is precluded from seeking future employment with the District."