Every day, Mitch and Annika Dworet cling to each other, trying to move forward, with no sense of direction.
"I don't know, to be honest with you, right now I feel like we're just trying to survive," Annika said.
"I think we have to take some steps back and wonder what happened again, wait, we're a family of four and now we're three, it doesn't seem right or real," Mitch added.
The Dworet family of four is shattered. Nicholas Dworet, a senior at Marjory Stoneman Douglas High School, was a star swimmer and had signed a scholarship letter of intent to swim in college. He died in the rampage. His younger brother, Alex, was shot but survived and is now a sophomore at Douglas.
"My son was a victim, Nick died, and my other son was injured, witnessed other students being killed and lost his brother, and us as parents, how do you, how do you wrap, how do you wrap yourself, how do we wrap around that?" Mitch said.
"The grief consumes you and yet you have to, as a parent, be there for your injured, traumatized child, it's very difficult," Annika said.
The Dworets find comfort with the other families who lost children and loved ones in the massacre, especially parents who share the unimaginable heartbreak of knowing their children will never achieve their goals.
"It's very difficult for me to think about all the things he didn't get to do and especially the things he really planned like going to college and swim, graduation, he didn't graduate, he didn't get to turn 18, those things are so, so hard," Annika said.
"But now it's the what-ifs, sometimes you think about, I can't go there very often, what if this didn't happen to Nick, you know, I can just imagine him calling us about swimming or sending us some video on it or being with his girl or coming home for Thanksgiving," Mitch added.
Reminders of the loss are everywhere. Mitchell got his first tattoo, a likeness of his son swimming, on his left arm as a tribute. The family started the Swim for Nick foundation to provide swimming clinics and scholarships, trying to focus on something positive, but the MSD tragedy is always in the news, always in their faces.
Parkland Documentary Looks Into Day of Shooting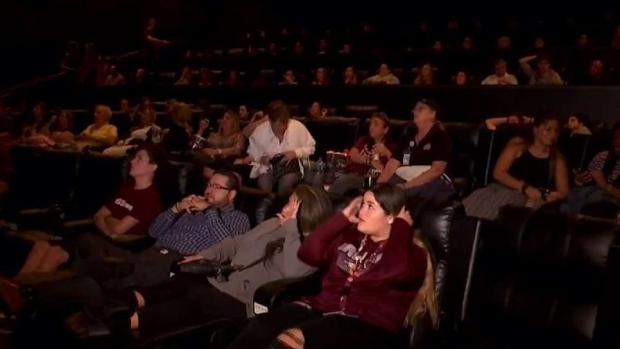 "You want to know because you need to be informed, at the same time you just want to crawl into a hole and never look at the news or social media again because it hurts every single time and it hurts when you see something that could've been possibly done to prevent this," Annika said.
Now the anniversary is here, a reminder for parents who need no reminding.
"Again, it's that gut punch of like, what happened? Where's Nick?" Mitch said, adding that a conversation he had with Manuel Oliver, who lost his son, Joaquin Oliver, has provided a sliver of meaning to the one-year anniversary.
"Manny mentioned it to me the other day, he said 'you know, Mitch, the year of firsts, that cycle of firsts is ending, now there's no more firsts, first birthday without Nick or Joaquin, first Thanksgiving,' that impacted me," Mitch said.