Cryptocurrency firm, Galaxy Digital views the approval of a spot Bitcoin (BTC) ETF as "the most impactful catalysts" towards the growth and adoption of the top digital asset.
In on Oct 24 market analysisGalaxy's research associate Charles Yu explained the possible effects of a spot BTC ETF in the United States as well as its significance in light of new market realities.
The firm projects the growth of Bitcoin by 74% in the first year of an ETF approval which could see the price of the asset soar to $59,000 while marking a 6.1% increase in the first month.
"If we apply our year-one estimate of $14.4bn in inflows (~$1.2bn per month or ~$10.5bn on an adjusted-basis using our 8.8x multiplier) into the historical relationship between gold ETF fund flows & change in gold price, we "estimate a +6.2% price impact for BTC in the first month."
Yu's predictions are not far-fetched as the run-up to an ETF approval has seen the price of the asset spike in anticipation. The price soared past $31,000 following BlackRock's application to the Securities and Exchange Commission (SEC) as well as similar moves by Fidelity, Valkyrie, and other firms.
Recently, Bitcoin also spiked above $35,000, a 16-month high still on the back of an imminent approval by the SEC.
Against impacts on adoption
The reports highlight the benefits of a spot BTC ETF approval on the market as well as for institutional investors which it described as the most accessible and direct market of the ETF.
With the wealth management industry in the US at $48 trillion across banks, registered investment advisors, and brokers, Galaxy predicts huge growth because an ETF would create ease in pouring institutional funds into the market.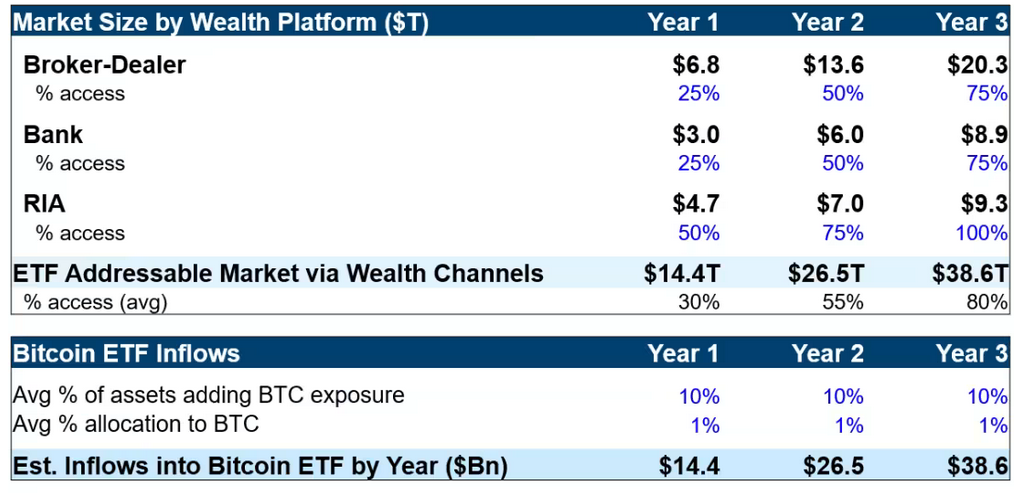 Galaxy believes the RIA channel will grow by 50% in the first year and 100% in the next three years while banks and brokers will increase by 25% in the first year and 75% in the next three years.
In total, the United States market size for a BTC ETF will soar to $14 trillion in the first year and $39 trillion by the third year.
According to Wu, investments would extend beyond these asset ranges if international clients, other investment products, and retail services capture the estimate.
Effective adoption and regulation
A Bitcoin spot ETF will open the market creating accessibility for institutional and retail players across wealth groups. The move takes the ball from wealth managers and expands it to RIA's, brokerage, and other fiduciaries.
Furthermore, big corporations in traditional finance making applications for a spot ETF give the market a new wave of credibility driving proper regulation to the market.
The crypto market has faced regulatory issues in the United States following the fall of the Terra ecosystem and the infamous implosion of FTX.