Bitcoin has been making waves in the cryptocurrency market recently, with speculations suggesting that the leading cryptocurrency might be on track to reach $28,435 by the middle of October.
Recent forecasts posit that Bitcoin could touch a noteworthy value of $28,435 by mid-October, representing a prospective 9% uptick.
This optimistic projection gains further credibility when viewed in conjunction with the latest Nonfarm Payroll (NFP) data released on Friday.
Better than Expected NFP Report Boosts Bitcoin's Potential Ascent
The figures exceeded anticipations, with the job sector adding a staggering 336K positions compared to the predicted 171K — a marked improvement from the revised 227K of the previous month.
Furthermore, while the average hourly earnings saw a modest month-on-month increase of 0.2%, in line with the previous month, it slightly missed the expected 0.3%.
The unemployment rate remained steady at 3.8%slightly above the anticipated 3.7%.
Investors closely watch macroeconomic and crypto-specific factors as Bitcoin's potential ascent in the coming weeks draws interest.
Bitcoin price
As of October 7th, Bitcoin (BTC/USD) is trading at $27,922, reflecting a nearly 2% increase in the last 24 hours and a commendable 4% hike over the past week.
This recent uptick in the price aligns with the massive 24-hour trading volume of over $13 billion, solidifying Bitcoin's dominance in the cryptocurrency market.
According to CoinMarketCapBitcoin currently holds the prestigious #1 ranking, boasting a staggering live market cap of approximately $544 billion.
The current circulating supply stands at 19,506,306 BTC coins, edging closer to its maximum supply limit of 21,000,000 BTC coins.
Bitcoin Price Prediction
From a technical standpoint, key price levels emerge when assessing the 4-hour time frame. The pivot point rests at $27,334. Bitcoin might soon face an immediate resistance at $28,435, with subsequent resistances looming at $28,715 and $29,421.
On the flip side, Bitcoin has immediate support at $26,649, and should the bearish pressure intensify, the asset could further retract to $25,323 or even as low as $24,556.
Digging deeper into the technical indicators, the Relative Strength Index (RSI) is currently positioned at 60, indicating a predominantly bullish sentiment.
This divergence typically implies potential upward momentum. Additionally, Bitcoin's price has surpassed its 50-day Exponential Moving Average (EMA) valued at $27,444, further supporting the bullish trend.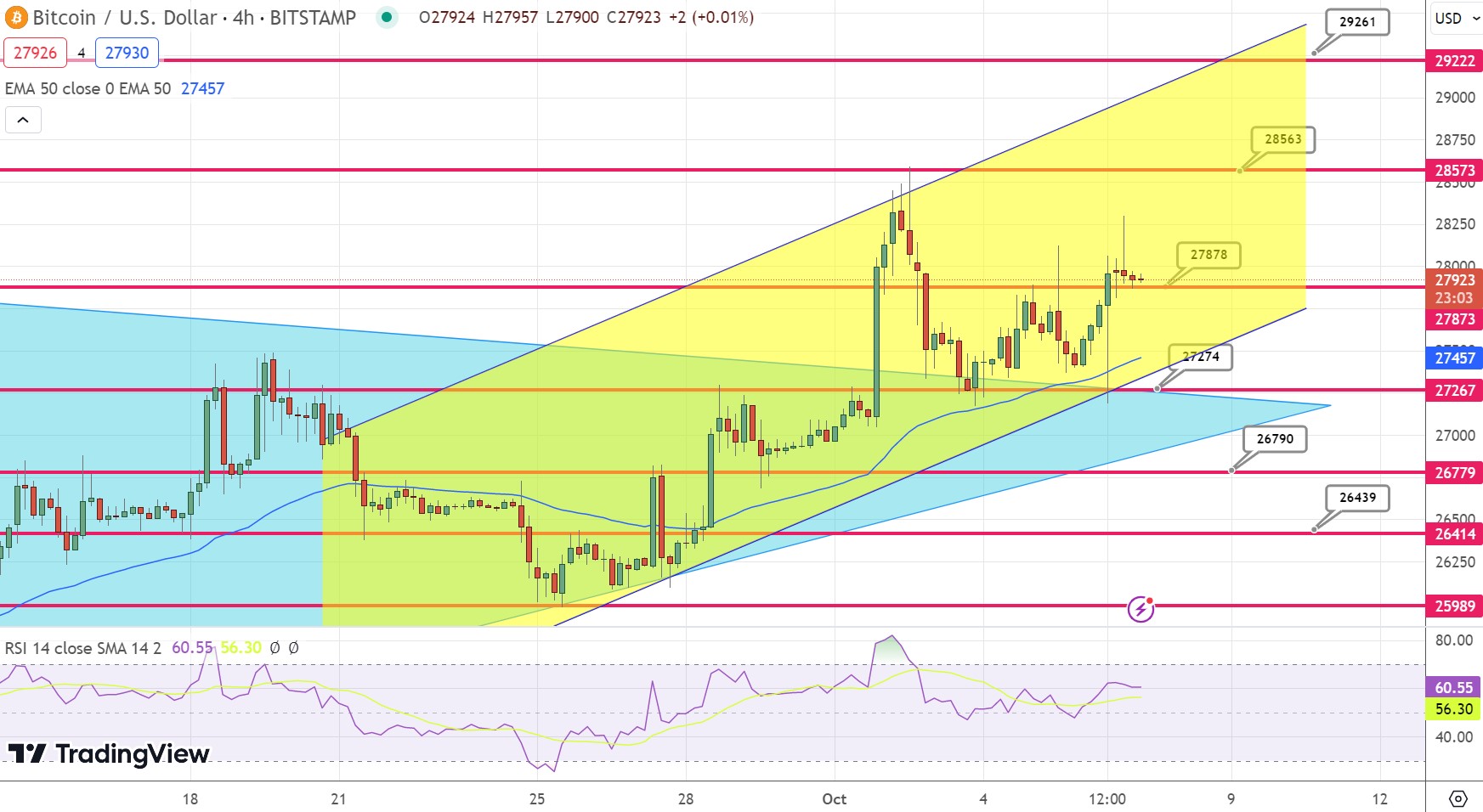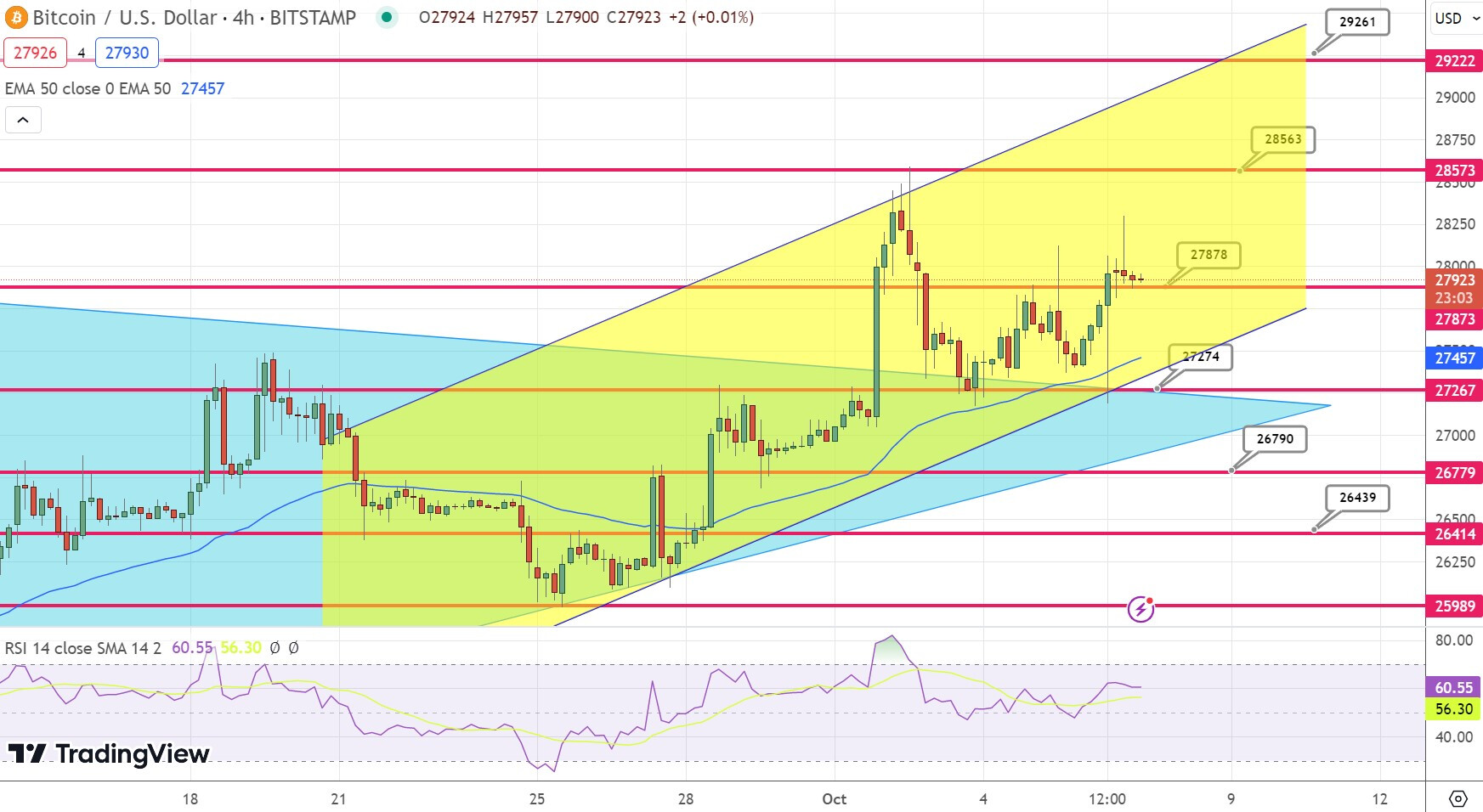 A symmetrical triangle pattern breakout was observed at the $27,000 mark. This pattern, often considered a continuation pattern, hints at Bitcoin maintaining its upward trajectory.
The bullish bias remains prevalent, especially considering the breakout from this triangle pattern. The asset's consistent closing outside of the triangle and its position above the 50 EMA fortify the current bullish narrative.
Bitcoin is currently displaying a bullish trend and its future prospects look favorable, particularly if the cryptocurrency manages to stay above the $27,445 mark.
If the bullish momentum continues, there's every reason to believe that Bitcoin will soon test the immediate resistance level of $28,435 in the upcoming days.
In conclusion, all signs point towards a potential surge in Bitcoin's price, potentially reaching the speculated $28,435 by mid-October.
As always, investors and traders are advised to conduct their research and exercise caution when making investment decisions.
Top 15 Cryptocurrencies to Watch in 2023
In 2023, you can stay updated on the world of digital assets with our carefully selected collection of the top 15 alternative cryptocurrencies and ICO projects.
Our list is created by experts from Industry Talk and Cryptonewswho provide professional advice and valuable insights for your cryptocurrency investment decisions.
Don't miss out on this chance to explore the possibilities of these digital assets and stay informed.
Find The Best Price to Buy/Sell Cryptocurrency


Disclaimer: Cryptocurrency projects endorsed in this article are not the financial advice of the publishing author or publication – cryptocurrencies are highly volatile investments with considerable risk, always do your own research.