Over the years, Bitcoin's (BTC) energy consumption data which posed serious concerns for several quarters has become more positive towards sustainability.
A new report from Bloomberg shows the sustainable energy mix of Bitcoin above 50% indicates a better climate growth ratio than several industries in the last two years.
Analyst Jamie Coutts explained that the rise in the hash rate and a comparative reduction in carbon footprint could usher in the next phase of institutional investments.
"Bitcoin as a global monetary network is scaling while its carbon impact declines. Few industries can claim this achievement."
Since the last Cambridge University's data on Bitcoin energy consumption in 2022, analysts have argued that the reliance on fossil fuel has jumped from 37% to well over 57% in monthssignificantly a huge growth as more money pours into energy efficiency.
Climate activist, Daniel Batten joined many others to predict a further change adding that Bitcoin will become carbon neutral in the coming years.
"By 2030, the Bitcoin network is projected to mitigate 10x more emissions from the atmosphere than it produces, an astonishing achievement."
A case for Bitcoin emissions
Analysts at Bloomberg made a concise assessment of the situation so far concluding with a significant drop in energy usage.
They argue that Bitcoin energy intensity has dropped from 600 to 295.5 grams of CO2 per KWH since the mining ban in China and Kazakhstan leading to a decentralized sector.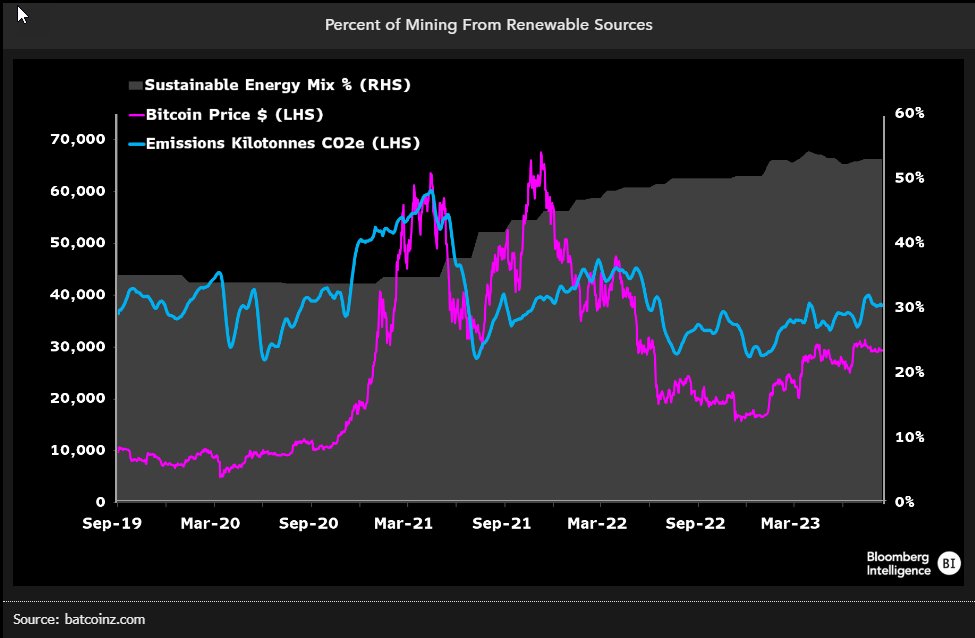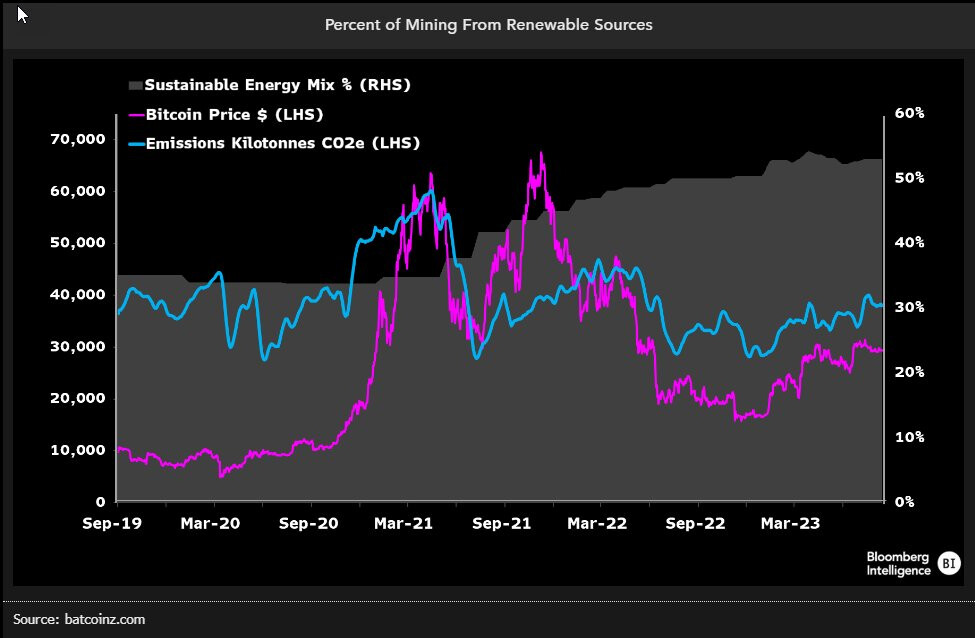 A major point raised was the traditional and new ways of calculating energy intensity. If it is measured according to market capitalization emissions are still lower.
The price of BTC is 60% below its $63,000 all-time high although network value surged by 335% with hashrate climbing 286%. According to the data, Bitcoin emissions have collapsed 75% per dollar in its market capitalization.
"Summary

While network growth may be slowing down to prev 5Y periods, it remains robust. Most KPI's 5Y CAGRs are in double digits.

And if Metcalfe's law network effects hold, each new adopter and interconnection made has an exponential (not linear) impact on the network value."
A whole new economy
The rise in the cost of mining Bitcoin has taken a toll on miners leading to asset sales, mining reserve sales, and a complete pivot to high-end computing.
As a result, miners are in search of cheaper forms of energy leading to less reliance on fossil fuels driving up a new economy for institutional investment.
"The incentive to acquire the cheapest energy sources is contributing to the network's rising hash rate while simultaneously reducing the industry's emissions or carbon intensity."
This has led to a spring-up in green crypto mines powered by solar or wind creating the perfect energy transition while billions continue to flow into the ecosystem.