In a rollercoaster week for Bitcoin, the premier cryptocurrency saw its price rise to $28,400, marking a 4.5% uptick on Tuesday. Several significant events influenced this trajectory.
MicroStrategy's mammoth Bitcoin purchase acted as a bullish signal, offering some warmth during the prevailing crypto winter.
However, not all news was positive; Binance, one of the world's largest crypto exchanges, held new user registrations in the UKsuccumbing to the pressure from the Financial Conduct Authority (FCA).
In another setback, BlackRock, the global investment giant, dismissed a Bitcoin ETF report, causing the digital asset to waver.
The confluence of these events sets a complex stage for Bitcoin's short-term price predictions.
MicroStrategy's Bold BTC Buy Provides Warmth in Chilly Crypto Climate
MicroStrategy (NASDAQ: MSTR), the top corporate Bitcoin holder, recently bolstered its Bitcoin cache to over $4.8 billion despite its stock plunging 30% during the crypto winter.
While serving industry leaders like Pfizer, Sony, Visa, and Hilton, the company retains its unwavering Bitcoin conviction, with no current liquidation plans.
Since its Bitcoin venture in 2020, MicroStrategy's stock has seen an upward trajectory.
This steadfast commitment to Bitcoin propels BTC's price upwards, hinting at the asset's promising long-term value, especially considering events like the impending Bitcoin halving and forecasted interest rate cuts by 2024.
Binance Halts UK Sign-Ups Amid FCA Pressure
Binance, a prominent cryptocurrency exchange, has suspended new user registrations in the UK as a response to the Financial Conduct Authority's (FCA) stringent approach towards cryptocurrency regulation.
The FCA recently enforced new rules on crypto asset promotions, effective from October 8, which require overseas firms, like Binance, to collaborate with FCA-approved entities for marketing their crypto services in the UK.
Binance's former partner, Rebuildingsociety.com Ltd, faced legal restrictions from the FCA, prompting this decision.
This suspension aligns with the wider industry trend of adapting to evolving regulatory landscapes.
Binance actively seeks an FCA-approved entity to endorse its financial promotions, indicating its commitment to regulatory compliance.
Existing UK users who have completed the necessary tests can still access Binance services, but new services are temporarily on hold.
Binance is working with the FCA to mitigate risks associated with crypto assets and identify a suitable firm for financial promotion approval. This news has been capping gains in the BTC/USD prices today.
Bitcoin Dips as BlackRock Denies ETF Approval
Bitcoin experienced a notable price surge, briefly climbing 10% to $29,900, its highest since August, driven by a crypto media report suggesting the US SEC had approved BlackRock's application for a spot bitcoin exchange-traded fund (ETF).
However, the gains were swiftly reversed when BlackRock denied the report, causing Bitcoin to settle at $28,211, up 3.82%. The news showcases Bitcoin's sensitivity to potential positive developments.
Crypto news outlet Cointelegraph initially reported the approval but later retracted the story, issuing an apology.
The crypto market eagerly awaits the SEC's final decision on spot bitcoin ETF applications, a decision likely to impact the market significantly. This event, although a "false alarm," underscores the market's anticipation and ongoing volatility.
The crypto market eagerly awaits the SEC's final decision on spot bitcoin ETF applications, a decision likely to impact the market significantly. This event, although a "false alarm," underscores the market's anticipation and ongoing volatility.
Bitcoin Price Prediction
In the BTC/USD technical outlook for October 17, Bitcoin is observed trading on a 4-hour timeframe. The asset's pivot point stands at $28,582. It currently faces immediate, next, and further resistance at $29,237, $29,921, and $30,500, respectively.
On the downside, the support levels to watch are $27,691, $27,239, and $26,576. The RSI, a crucial indicator of market sentiment, reads 75, signifying overbought conditions. Typically, values ​​above 70 often indicate a possible pullback.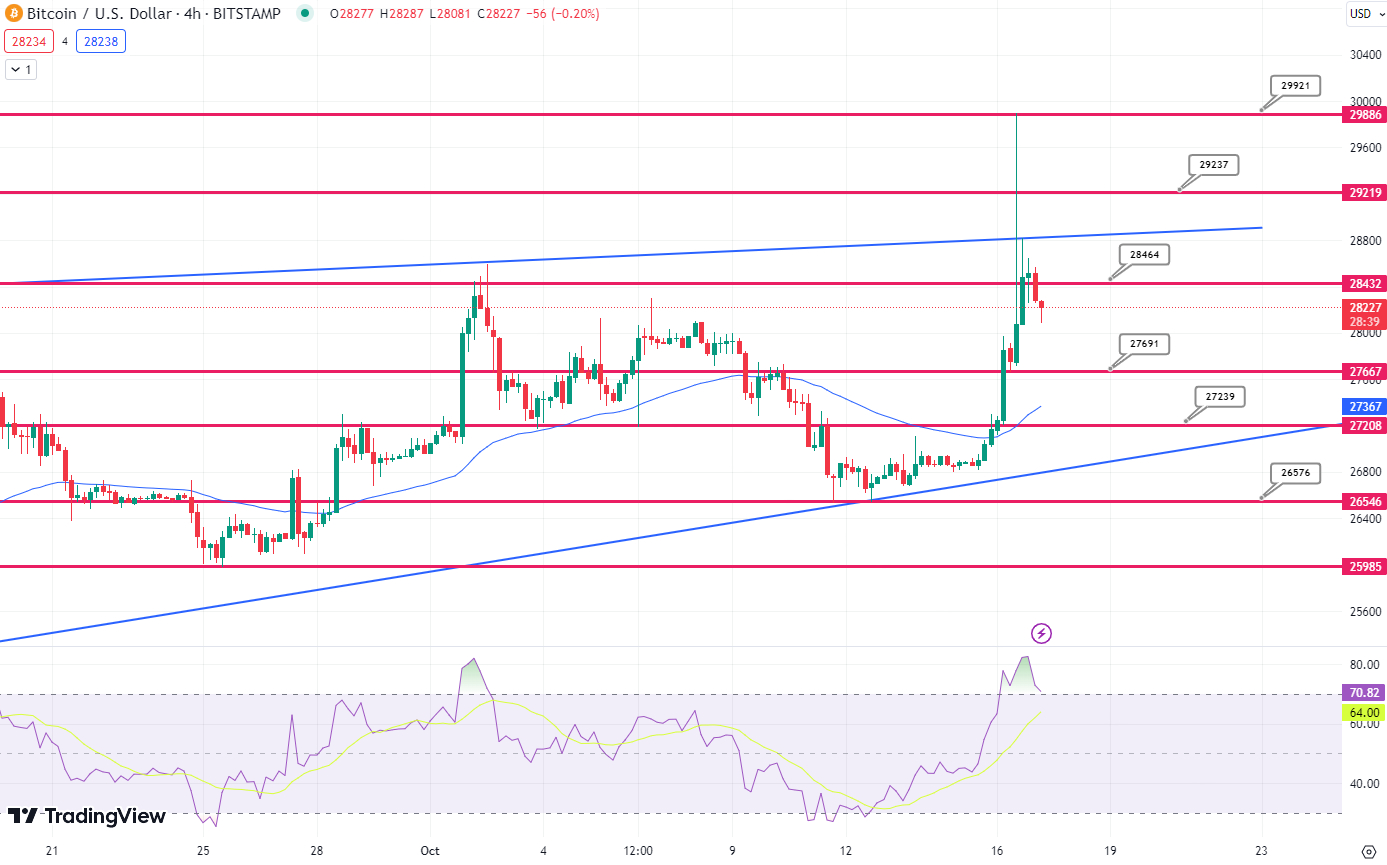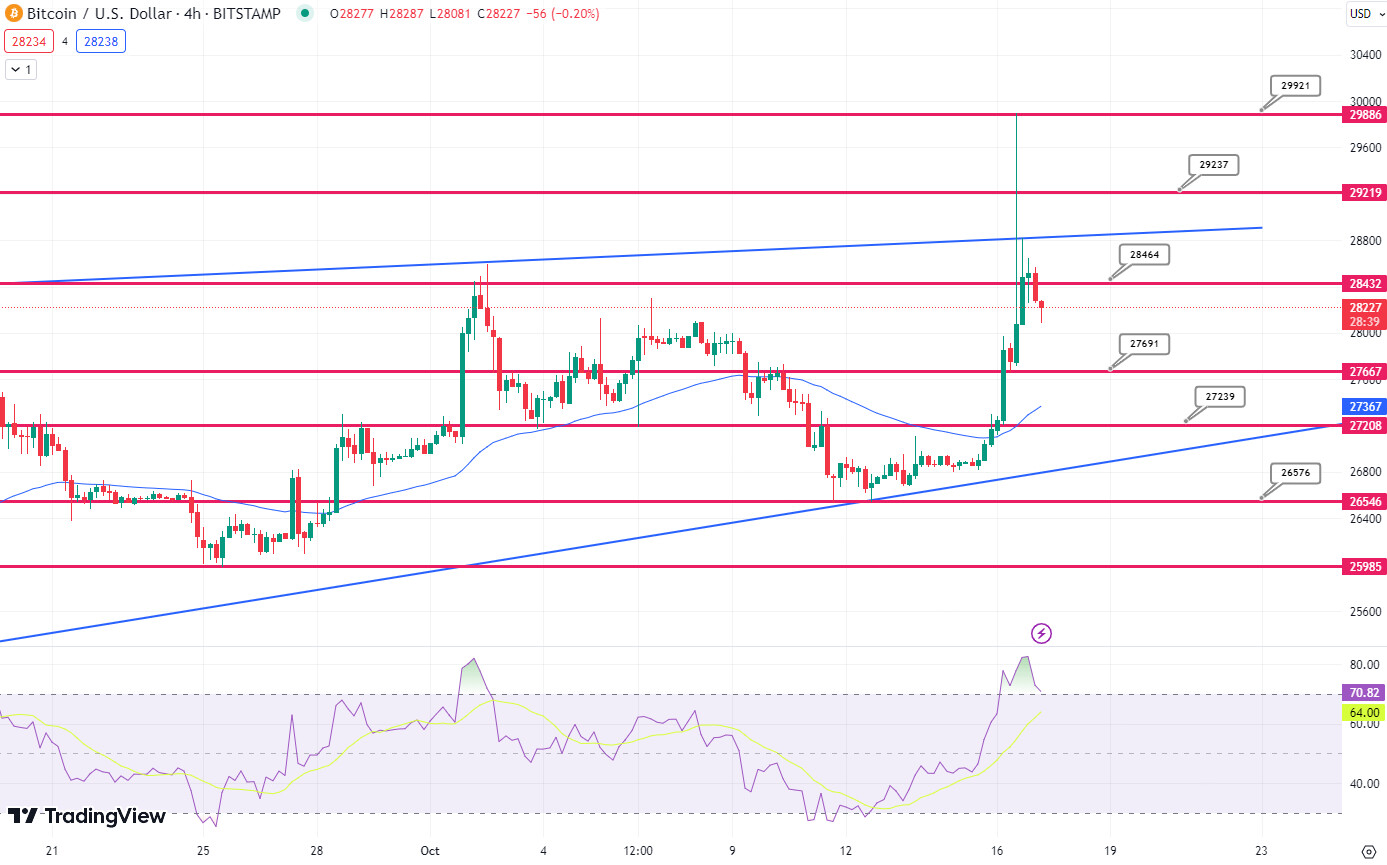 The 50-day Exponential Moving Average (EMA) is priced at $27,250. Bitcoin's current price above this EMA suggests a short-term bullish sentiment.
Chart patterns reveal a double top, with significant resistance extending around $28,500. A bullish breakout above this level could propel Bitcoin into further upward momentum.
Conclusively, the prevailing trend for Bitcoin is bullish as long as the price remains above $28,000. In the short term, Bitcoin might test the aforementioned resistance levels, and traders should keep a keen eye on these figures.
Top 15 Cryptocurrencies to Watch in 2023
Stay up-to-date with the world of digital assets by exploring our handpicked collection of the best 15 alternative cryptocurrencies and ICO projects to keep an eye on in 2023.
Our list has been curated by professionals from Industry Talk and Cryptonewsensuring expert advice and critical insights for your cryptocurrency investments.
Take advantage of this opportunity to discover the potential of these digital assets and keep yourself informed.
Find The Best Price to Buy/Sell Cryptocurrency


Disclaimer: Cryptocurrency projects endorsed in this article are not the financial advice of the publishing author or publication – cryptocurrencies are highly volatile investments with considerable risk, always do your own research.