Bitcoin is currently trading at $27,955, experiencing a marginal 0.25% decline on Monday. In a notable development, the CEO of OpenAI has lauded Bitcoin as the "super logical" step on the tech tree, highlighting its significance in the evolving technological landscape.
Additionally, Russian President Vladimir Putin has sounded a warning regarding the stability of the US dollar-based global financial system, further emphasizing the cryptocurrency's growing influence and relevance in the world of finance.
OpenAI CEO Believes Bitcoin is the Next Logical Step in Technology Advancement
OpenAI CEO Sam Altman has praised Bitcoin as a "super logical" progression in technology, citing its independence from government control and potential to combat corruption. In a recent on The Joe Rogan Experience podcast, Altman expressed his enthusiasm for Bitcoin's role as a global currency beyond state appearance influence.
Altman, who is also the founder of Worldcoin, suggested that Bitcoin's transparency could help reduce corruption in a technology-driven world. Despite some skepticism about the broader cryptocurrency industry,
Joe Rogan expressed optimism about Bitcoin's potential as a universally viable currency, given its limited supply and decentralized mining.
Altman and Rogan expressed strong opposition to central bank digital currencies (CBDCs) and concerns about the approach of the US government to cryptocurrency regulation.
Bitcoin is currently experiencing a decline in its price, which could be attributed to various factors beyond its control or due to general market trends.
While the immediate impact of this development on BTC's price may not be clear, it has the potential to positively influence Bitcoin's market outlook and improve overall sentiment in the long run.
Putin Warns of Impending Collapse of US Dollar-based Global Financial System
During a speech at the Valdai Discussion Club, Russian President Vladimir Putin expressed his belief that the US dollar-based global financial system is gradually collapsing.
Putin pointed out that the share of the US economy in world GDP is decreasing, indicating that the Bretton Woods system, which is based on the dollar, is becoming outdated.
He also highlighted the increasing importance of BRICS countries in terms of purchasing power parity compared to the G7 nations.
Putin discussed the possibility of establishing a settlement system and conducting trade in national currencies within the BRICS bloc, rather than creating a single currency.
Although Bitcoin's price is currently experiencing a downward trend, the recent news can have a significant impact in the long run by drawing attention to the issues present in the traditional financial system.
As Bitcoin is often viewed as a safeguard against the devaluation of fiat currency, it may gain more popularity as a reliable store of value in response to these concerns.
Bitcoin Price Prediction
From a technical standpoint, focusing on the 4-hour time frame, Bitcoin is approaching key price levels. The current pivot point stands at $27,348.
For traders and investors, it's vital to keep an eye on the immediate resistance level of $28,350. If this resistance is surpassed, Bitcoin could target the next hurdles at $29,400 and potentially $30,785.
In contrast, if bears gain control, Bitcoin may find support around $26,630, followed by $25,260, and a more distant support at $24,556.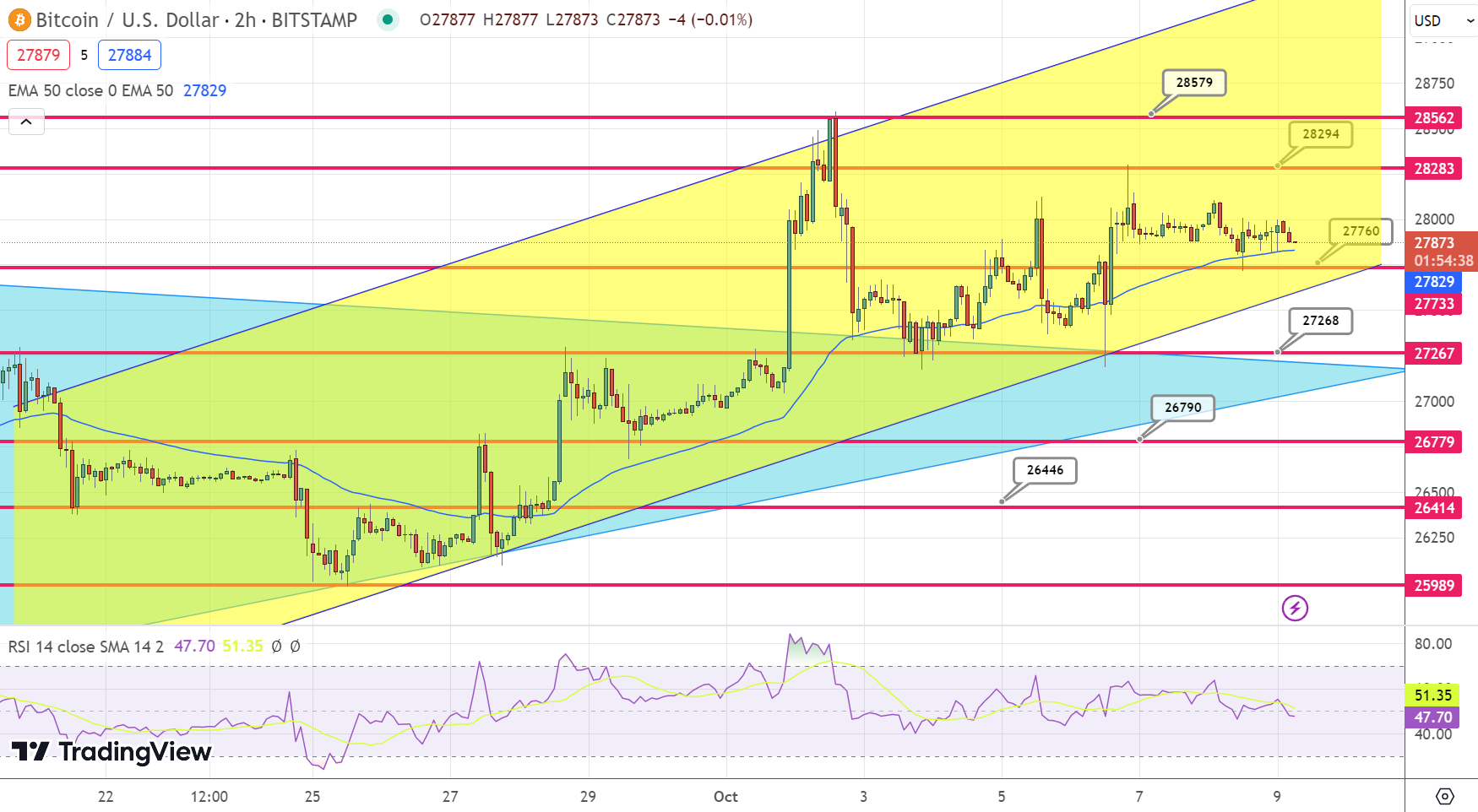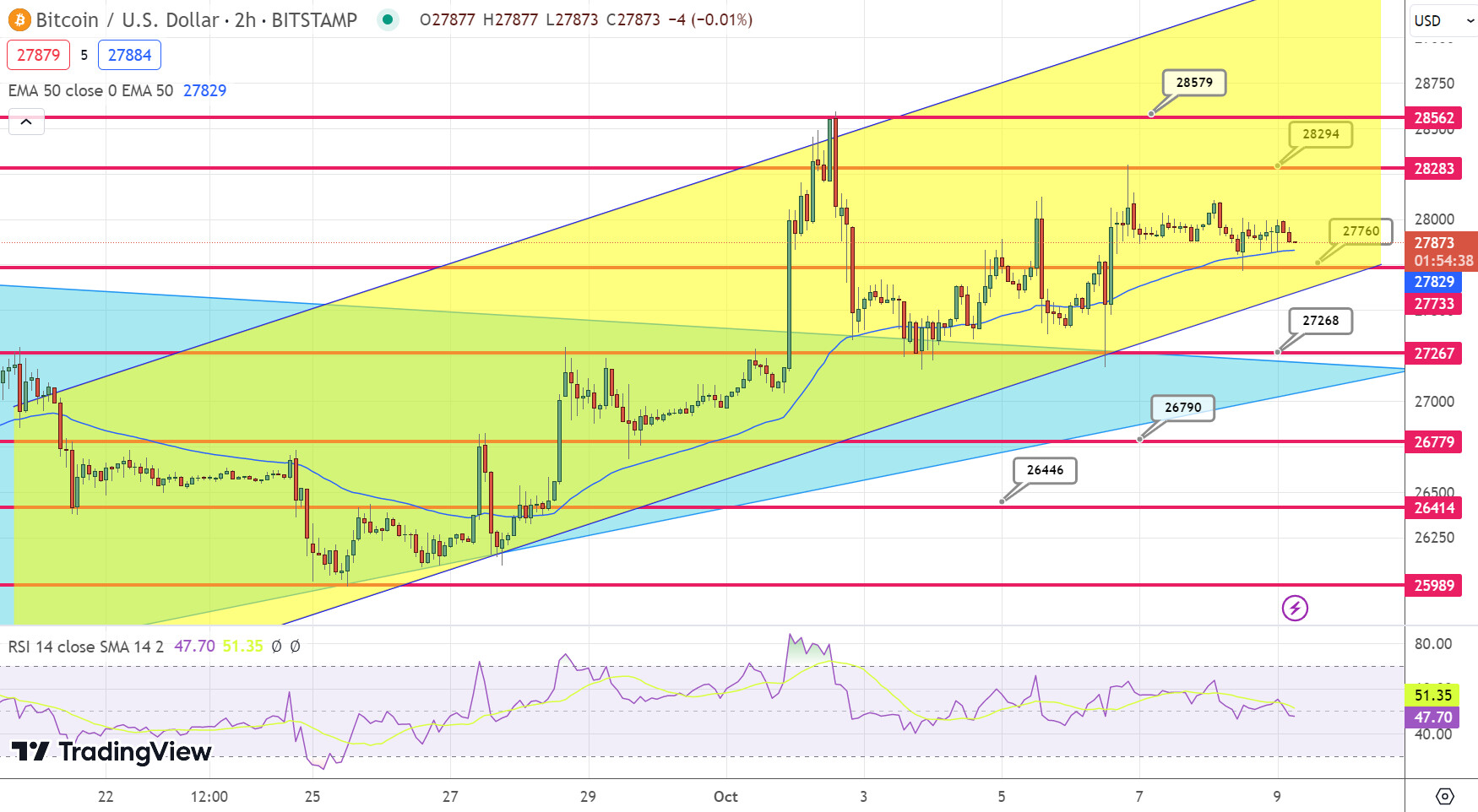 Examining technical indicators, the Relative Strength Index (RSI) sits at 48, indicating a near-neutral sentiment. However, with the RSI below 50, a slight bearish bias exists.
Regarding the 50-day Exponential Moving Average (EMA) at $27,500, Bitcoin's short-term trend may remain bullish as long as it stays above this level.
Chart patterns reinforce Bitcoin's potential upward movement. A 4-hour chart reveals an upward channel, with significant support from the 50 EMA, particularly near $27,500.
In summary, Bitcoin's overall trend appears bullish as long as it holds above $27,500. If the current momentum persists and external conditions remain favorable, Bitcoin could soon test and possibly breach the critical $28,500 threshold.
Traders and investors should stay vigilant, closely monitor technical levels, and adjust their strategies accordingly.
Top 15 Cryptocurrencies to Watch in 2023
Stay up-to-date with the world of digital assets by exploring our handpicked collection of the best 15 alternative cryptocurrencies and ICO projects to keep an eye on in 2023.
Our list has been curated by professionals from Industry Talk and Cryptonewsensuring expert advice and critical insights for your cryptocurrency investments.
Take advantage of this opportunity to discover the potential of these digital assets and keep yourself informed.
Find The Best Price to Buy/Sell Cryptocurrency


Disclaimer: Cryptocurrency projects endorsed in this article are not the financial advice of the publishing author or publication – cryptocurrencies are highly volatile investments with considerable risk, always do your own research.