Amidst a turbulent landscape for the world of cryptocurrency, Bitcoin price finds itself at the center of various discussions. Trading at $27,593, it recorded a nearly 1.5% dip on Tuesday. As the month unfolds and the market leans into the positive momentum termed as "Uptober", challenges still loom on the horizon.
On one hand, the US has increased its scrutiny on digital assets with the SEC and five other key regulators, issuing stern warnings about crypto investments.
Meanwhile, across the pond, the UK government faces increasing pressure to reevaluate Chase Bank's policy rejecting cryptocurrency payments, adding another layer of complexity to the evolving narrative around Bitcoin.
US Regulators Caution Investors Against Crypto Investments
The US Securities and Exchange Commission (SEC) and five other leading financial regulatory bodies have warned investors about the risks associated with cryptocurrency investments as part of World Investor Week.
The SEC's Office of Investor Education and Advocacy, in collaboration with organizations like FINRA, CFTC, NFA, SIPC, and NASAA, has emphasized the high risk involved in crypto-asset transactions.
They have highlighted the extreme volatility and speculative nature of these investments, and pointed out that there may be a lack of important investor protections on crypto platforms.
It has been warned that some providers of crypto assets may not comply with relevant laws, including federal securities regulations. The risks involved include unregistered offerings, lack of SIPC protection, and widespread fraud.
This regulatory caution, coupled with falling BTC/USD prices, serves as a timely reminder of the inherent volatility and unpredictability of the cryptocurrency market. It is, therefore, advisable for investors to exercise caution and diligence.
Uptober Kicks Off with Positive Market Sentiment
The global cryptocurrency market has recently gained bullish momentum, with investors eagerly embracing the term "Uptober" in anticipation of a potential October bull run.
CoinMarketCap data reveals a 0.82% increase in the global crypto market capitalization over the past 24 hours, hitting a six-week high at $1.09 trillion. This comes after the market's total cap had dropped to a six-month low of $1 trillion on September 12.
Bitcoin's September performance has been limited in the past decade, with only a 6% rise in 2016. This year, it climbed by 4%. However, October is traditionally the most promising month for Bitcoin, with an average profit margin of 28%. This trend, along with Bitcoin's resilience, suggests the potential for a price surge in the upcoming month.
Calls for UK Government to Review Chase Bank's Cryptocurrency Payment Rejection Policy
Bitcoin Policy UK has urged the UK government to scrutinize Chase Bank's policy of rejecting cryptocurrency payments, citing a contradiction with the government's ambition to establish the UK as a crypto asset hub.
JP Morgan Europe Ltd, operating as Chase Bank, recently informed its UK customers that it will no longer accept crypto-related payments from October 16.
Bitcoin Policy UK, an advocacy group, has drawn attention to the UK government's commitment to fostering innovation and technology in the cryptocurrency industry.
The group pointed out that the majority of crypto exchanges are regulated entities. However, they also expressed concerns about the growing trend of financial censorship and the potential restriction of financial freedom in the UK.
This move has raised concerns among advocates for cryptocurrency adoption. The decreasing price of BTC/USD may intensify these concerns, highlighting the challenges and obstacles the crypto industry faces, such as banking restrictions and regulatory complexities, which could impede its widespread acceptance.
Bitcoin Price Prediction
Bitcoin's value recently approached the $28,500 resistance mark, achieving a multi-week high of $28,565. Following this peak, the cryptocurrency underwent a correction, falling below the $28,000 mark.
Nevertheless, Bitcoin continues to trade above the crucial threshold of $27,400, underpinned by a strong bullish trend on its hourly chart.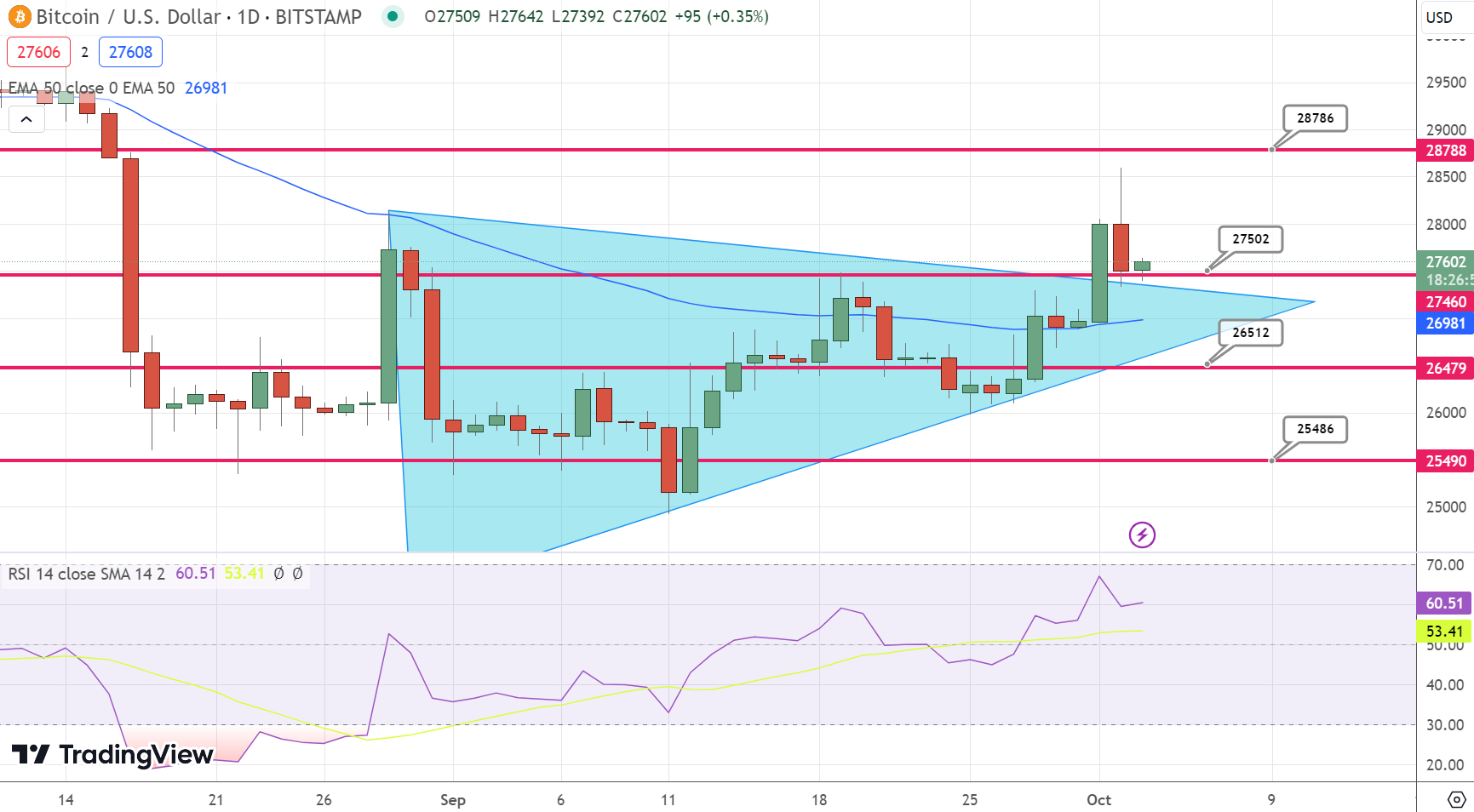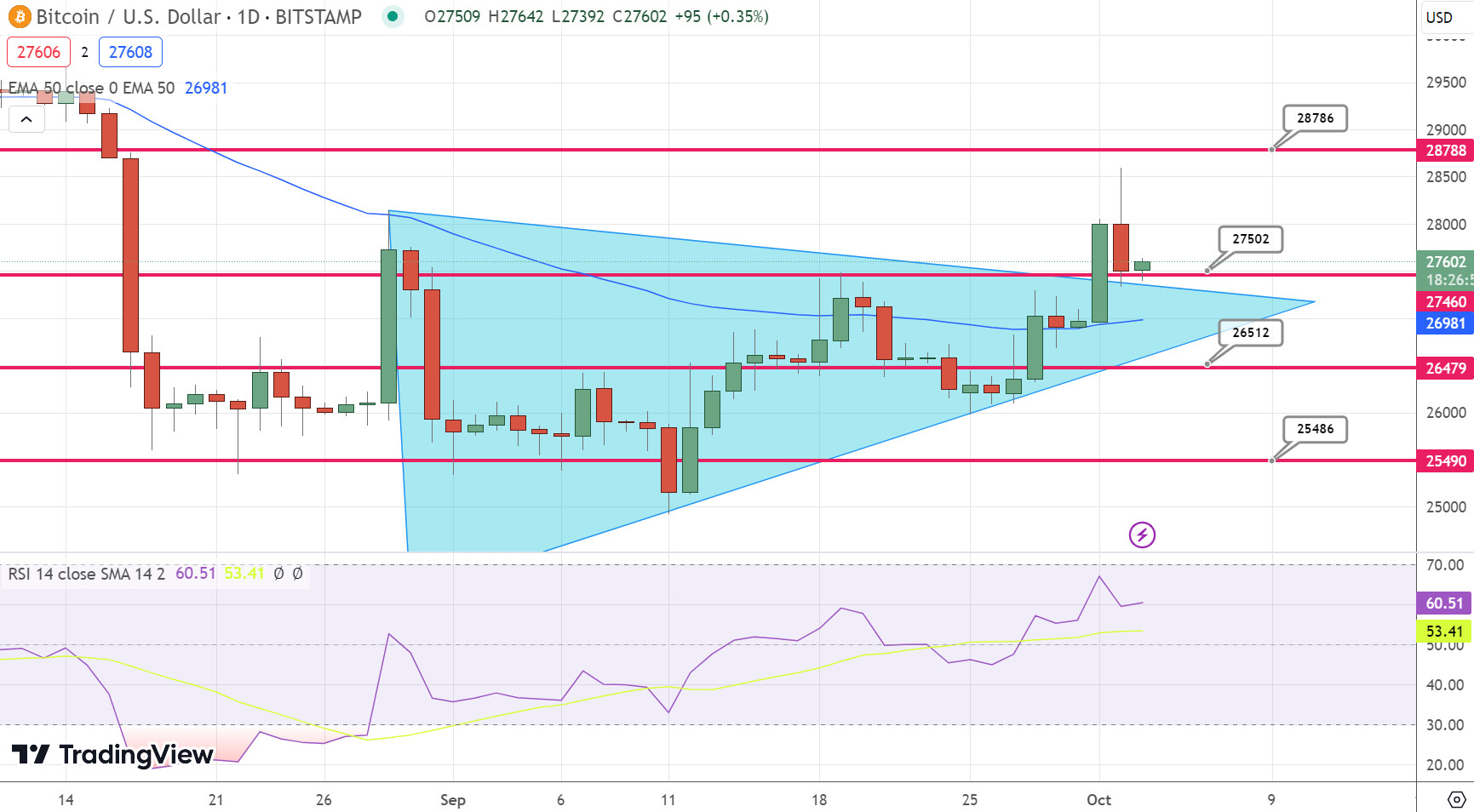 If Bitcoin surpasses the $28,000 resistance, it may target the $28,500 and potentially the $29,200 marks. However, if it struggles to exceed $28,000, it might find support around $27,400.
Breaking below the significant $27,250 support could drive the price further down, potentially testing the $26,000 level.
Top 15 Cryptocurrencies to Watch in 2023
Stay up-to-date with the world of digital assets by exploring our handpicked collection of the best 15 alternative cryptocurrencies and ICO projects to keep an eye on in 2023.
Our list has been curated by professionals from Industry Talk and Cryptonewsensuring expert advice and critical insights for your cryptocurrency investments.
Take advantage of this opportunity to discover the potential of these digital assets and keep yourself informed.
Find The Best Price to Buy/Sell Cryptocurrency



Disclaimer: Cryptocurrency projects endorsed in this article are not the financial advice of the publishing author or publication – cryptocurrencies are highly volatile investments with considerable risk, always do your own research.