As the BTC/USD pair exhibits a modest +0.25% gain, trading today at $26,916, the crypto community buzzes with speculation and optimism.
Driving this uptrend is the SEC's recent approval of Grayscale's Bitcoin ETF, a significant nod that has undoubtedly propelled BTC prices upwards.
Furthermore, the digital currency's surge is being bolstered amidst an environment of low inflation and heightened geopolitical tensions.
With these factors in play, the critical question arises: Is Bitcoin on the cusp of a trend reversal?
SEC's Green Light for Grayscale's Bitcoin ETF Drives BTC Prices Higher
Bitcoin (BTC) prices are surging on the heels of a game-changing development in the cryptocurrency industry. The US Securities and Exchange Commission (SEC) has opted not to challenge a pivotal DC Circuit Court of Appeals ruling, granting Grayscale Investments LLC the green light to launch a Bitcoin Exchange-Traded Fund (ETF).
This decision, made public on Friday, marks a monumental shift for the digital currency market.
The court's decision, initially rendered by a panel of three judges, had been pending potential review by a larger panel. However, the SEC's choice not to oppose this ruling has paved the way for Grayscale's transformation into an ETF.
Grayscale has long argued that this transition would unlock substantial investor value by introducing simplified share creation and redemption mechanisms, which are necessarily absent in their current closed-end trust structure.
This structure has frequently been criticized for restricting investors from redeeming shares during price declines, leading to significant discounts relative to Bitcoin's intrinsic value.
Introducing a Bitcoin ETF is poised to provide investors with newfound flexibility, enticing more market participation.
This pivotal development is propelling Bitcoin prices to higher ground today as the cryptocurrency market braces for the dawn of a new era.
Bitcoin Surges Amidst Low Inflation and Geopolitical Tensions
Bitcoin (BTC) has seen a significant resurgence, partly due to the latest Consumer Price Index (CPI) data, historically indicating BTC gains in low inflation.
In September, the CPI reports revealed a 0.2% dip in inflation as compared to August data, driving Bitcoin up 12% to $28,050 on Friday.
Industry analysts believe that despite geopolitical concerns and Bitcoin hitting its 2023 low, it's poised to retest $30,000, reaffirming its role as an inflation hedge.
Bitcoin's resilience in these uncertain geopolitical situations underscores its appeal as a haven for investors seeking shelter from global turbulence. In a sombre backdrop, the ongoing Israel-Palestine conflict continues, with tragic casualties.
Dozens, including women and children, have perished in Israeli air raids, drawing international condemnation. UN Chief Antonio Guterres implores reconsidering evacuation orders in Northern Gaza, fearing catastrophic escalation.
Bitcoin price
Bitcoin's current market dynamics exhibit a blend of stability and subtle movement. Today, it's priced at approximately $26,892, marking a nominal rise of 0.04% over the last 24 hours. This modest shift is grounded in a considerable trading volume of nearly $4.8 billion.
Unwavering in its dominance, Bitcoin continues to lead the cryptocurrency charts, securing its top position on CoinMarketCap. Its substantial market cap sits around $524.79 billion, with a current circulating supply of 19,514,125 BTC coins, inching closer to its predetermined cap of 21 million.
Bitcoin Price Prediction
On the technical side, the Bitcoin's 4-hour chart offers some insights. A pivot point is noted at $26,450, while resistances and supports are charted at intervals—$28,050, $29,000, $30,550 and $25,430, $23,900, and $22,875, respectively.
Delving into specific indicators, the Relative Strength Index (RSI) reads 46, hinting at a slightly bearish sentiment since it's below the standard mid-point of 50.
Although the exact figures for the Moving Average Convergence Divergence (MACD) are still forthcoming, its trends and crossovers are vital in predicting potential market momentum.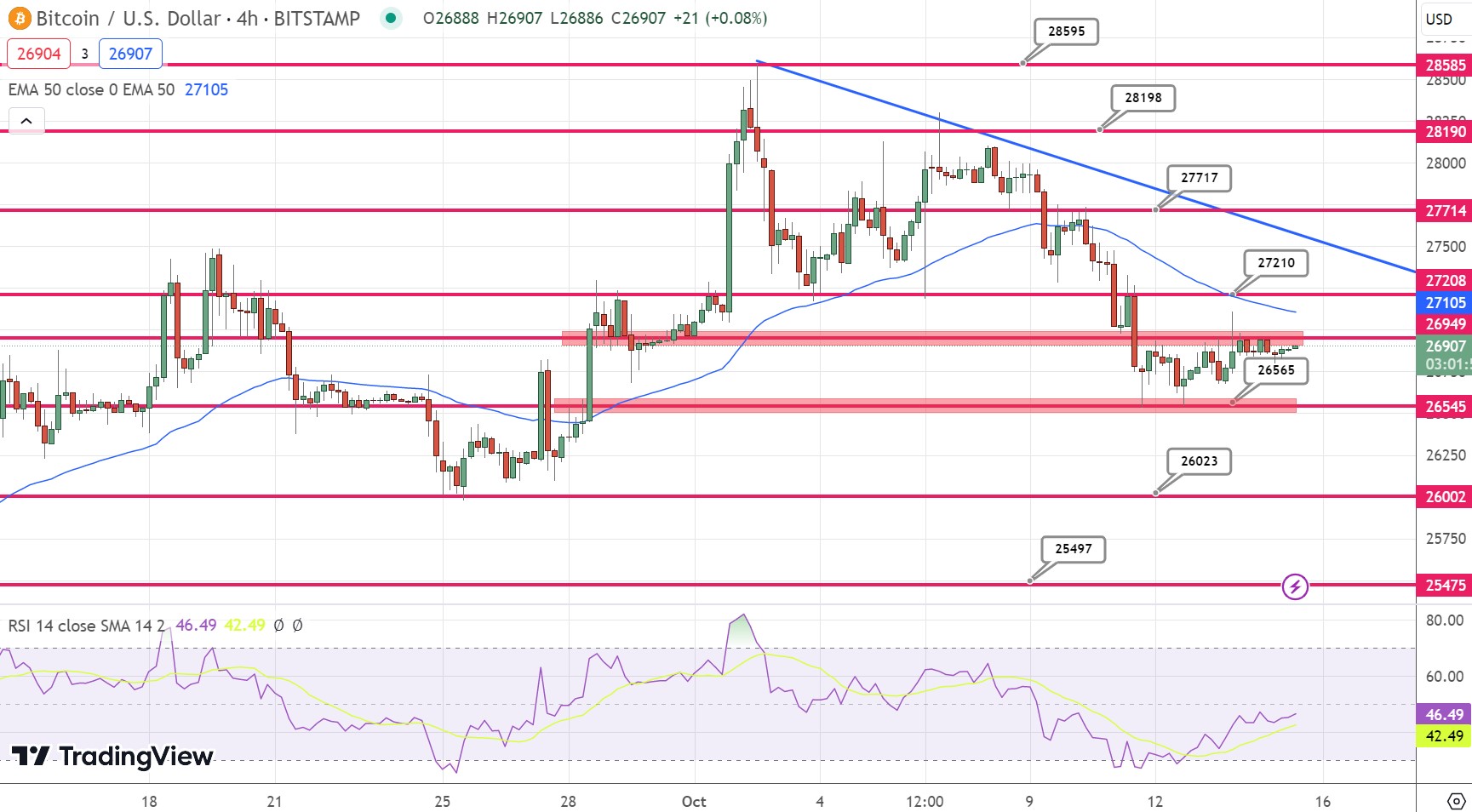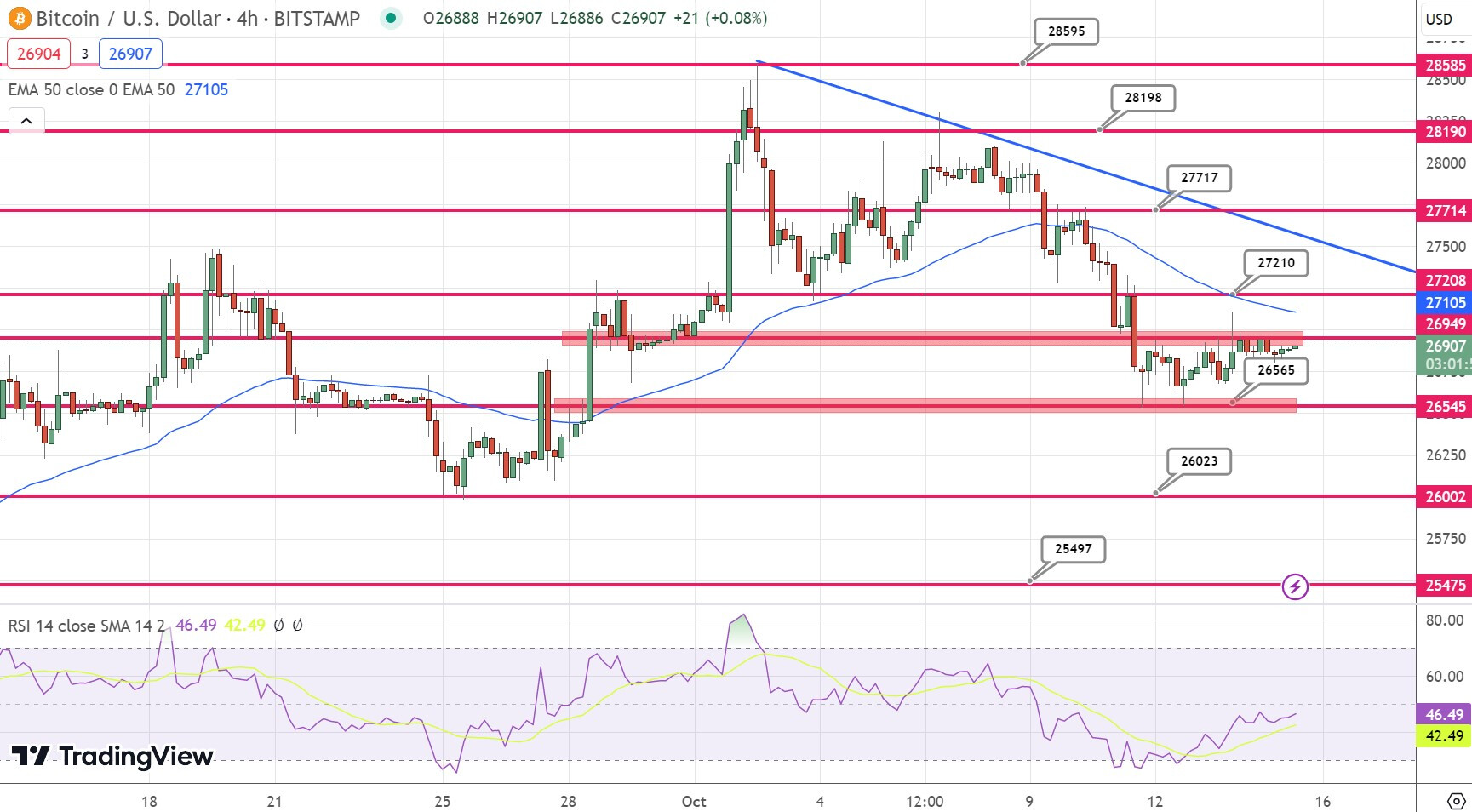 Furthermore, with the 50-day Exponential Moving Average (EMA) placed at $27,100 and Bitcoin's price below it, a short-term bearish trend is indicated.
Observing Bitcoin's price movement, it seems to navigate within a sideways range, predominantly between $26,900 and $26,500.
Conclusively, as long as Bitcoin's price lingers below the $27,100 mark, the broader trend can be interpreted as bearish.
Top 15 Cryptocurrencies to Watch in 2023
Stay informed in the realm of digital currencies by delving into our selected roundup of the top 15 alternative cryptocurrencies and ICO initiatives to watch in 2023.
This compilation is the result of collaboration between experts at Industry Talk and Cryptonewsguaranteeing knowledgeable recommendations and valuable perspectives for your crypto ventures.
Seize this chance to uncover the promise of these digital currencies and stay ahead of the curve.
Find The Best Price to Buy/Sell Cryptocurrency


Disclaimer: Cryptocurrency projects endorsed in this article are not the financial advice of the publishing author or publication – cryptocurrencies are highly volatile investments with considerable risk, always do your own research.